Published: May 25, 2021 Dominique Wright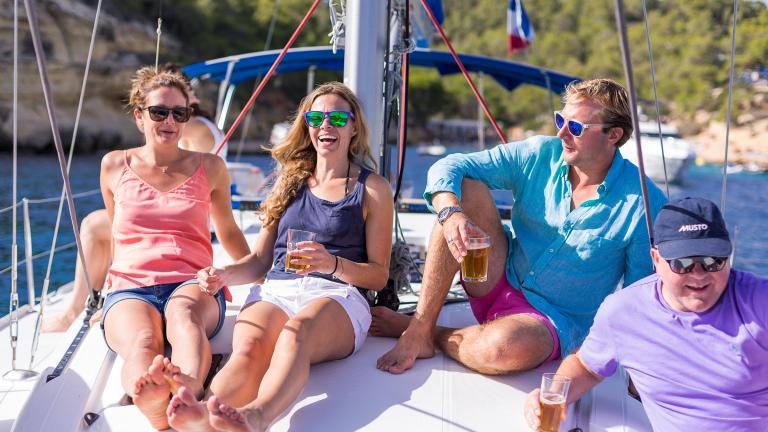 Are you a bit of a sailing novice and want to explore the most beautiful areas in the Mediterranean? Do you want to set sail with the family and meet other families along the way? Or do you want to spend a quiet week on the water with your partner without worrying about moorings and reservations?
Whether you are an experienced sailor or a beginner, a couple or a family, you can choose from a range of flotilla itineraries in the Mediterranean. Choose between island hopping from safe harbors to protected anchorages perfect for families or beginners or longer open water sails for those with more miles under their belt.
Our Top 5 Flotilla Routes in the Mediterranean Sea
What can you experience on these flotilla routes in the Mediterranean Sea? We have summarized the most important places, ports, moorings, sights and swimming stops for you here: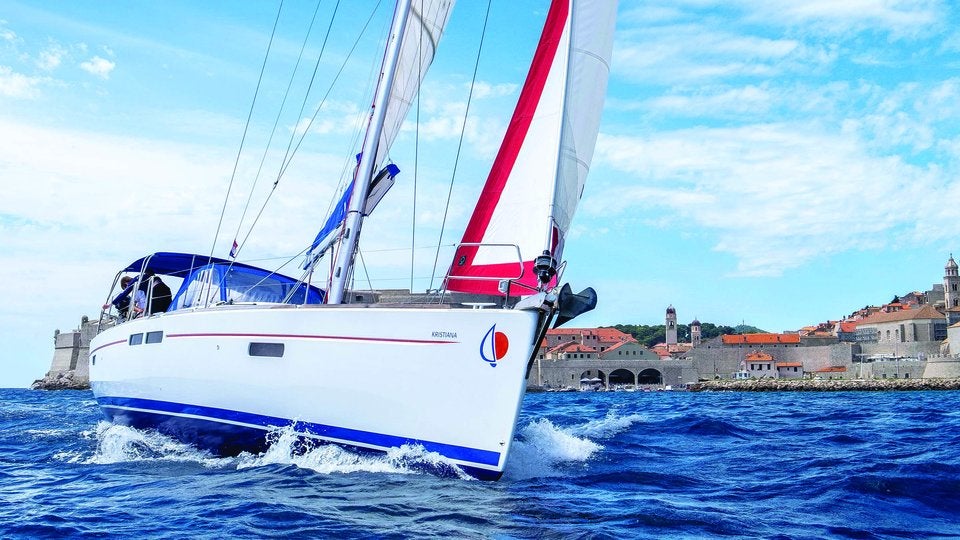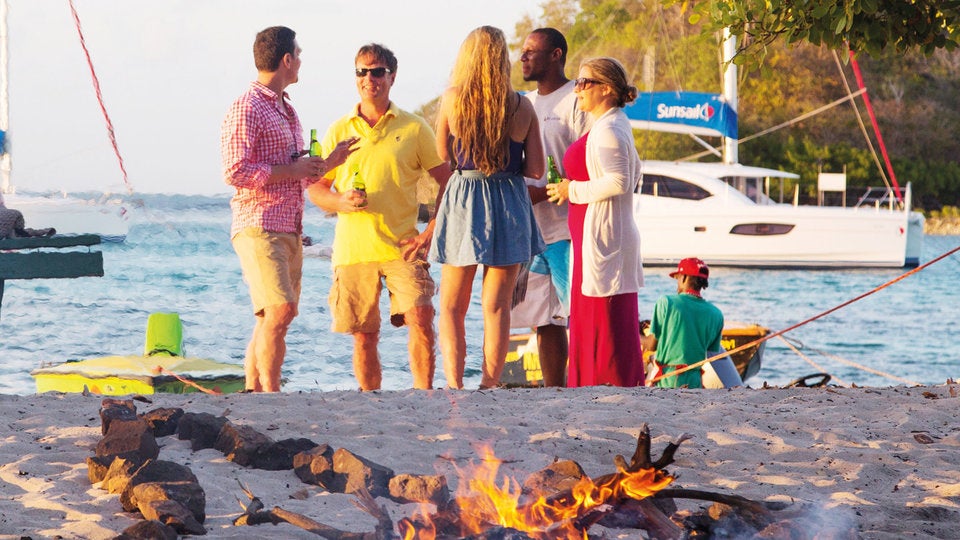 Lefkas Flotilla - Island hopping in Greece
The week-long flotilla from Lefkas offers the best of the Ionian Islands: dramatic cliffs, ancient fortresses, fragrant pine forests, pristine coastlines and the islands of Kefalonia and Meganisi. Snorkel at an airplane wreck or explore the island of Ithaca, where Odysseus is said to have been born.
Krka flotilla - Natural wonders and island worlds
The Krka Flotilla will take you on a week-long sailing vacation along Croatia's famous Dalmatian coast. You will visit many islands, waterfront restaurants and white sandy beaches on your way to the magnificent Krka National Park, and be sure to sample Croatian wine in the traditional wine regions of Primošten.
Korčula Flotilla - Croatia Culture & History
On our Korčula flotilla you will experience the magnificent beauty and unique tidal lakes of the Mljet National Park and explore the coastal town of Ston, steeped in history, home to the second longest defensive wall in the world and known for its mussel and oyster farming.
Pontine Island Flotilla - Volcanic beauty & delicious food
Explore the beautiful, volcanic Pontine Islands on the Pontine Flotilla and, if you're lucky, experience delicious food being cooked in the volcanic sands on Ischia. Discover magnificent anchorages, pristine beaches, fascinating archaeological sites and a rich Roman history.
Food and Wine Flotillas - Mediterranean delicacies
On our food and wine flotillas you will experience a culinary journey through Croatia's or Italy's Mediterranean cuisine. Our experienced crews will take you past the beautiful mountain backdrops of the Amalfi Coast to pastel-colored towns, gorgeous wineries and numerous olive groves. Taste seafood straight from the catch and tantalize your palate with local delicacies.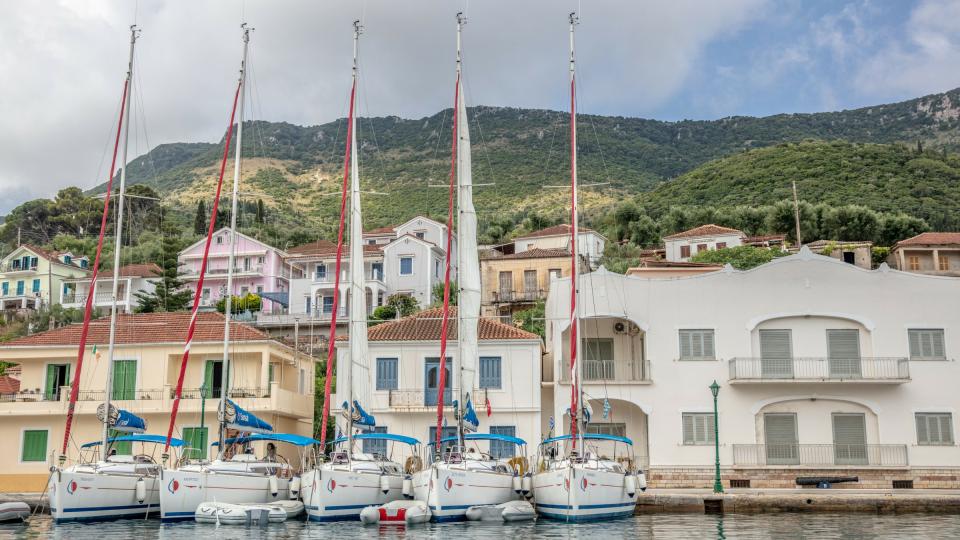 Other areas for flotilla sailing in the Mediterranean Sea
Sunsail offers Mediterranean flotillas in Greece (Ionian Islands), Croatia (Central Dalmatia) and Italy (Sardinia, Sicily & Ischia). There are several flotillas to choose from in each of the different areas - both one and two week itineraries - so with a total of 6 bases and over 15 flotilla routes in the Mediterranean there is a flotilla to suit every crew.
What experience do I need for flotilla sailing in the Mediterranean?
We have divided our sailing areas into levels, so that you - depending on your experience - can choose the appropriate area. These levels are a guideline and refer to the tidal range, wind and weather conditions and sailing challenges that can be expected in the area.
Most of our flotilla routes in the Mediterranean Sea are level 1, so you can participate with a SBF See license and little experience.
Level
Recommended Experience
Fotilla Route
Sailing level 1

5 days or 100 nautical miles on corresponding yacht size
RYA Day Skipper or SBF Sea

Lefkas Flotilla

Procida Flotilla

Food and Wine Flotilla

Sailing level 2

10 days or 200 nautical miles on corresponding yacht size
RYA Day Skipper or SBF Sea

Korčula Flotilla
Food and Wine Flotilla

The great advantage of a flotilla, especially for sailing beginners, is the support of the accompanying crew: Every morning they discuss the day's plan with you, name target ports and ideal routes, inform you about the weather situation and point out stops worth seeing. She helps you cast off and arrives at your destination ahead of you to organize moorings and assist with docking.
Not sure if your experience is sufficient or want to know more details about the requirements for flotilla sailing? We will be happy to advise you on which flotilla suits your experience.
Learn everything you need to know about flotilla sailing with Sunsail and discover more flotilla itineraries in the Mediterranean, Caribbean and Australia. We have summarized all the information for you in our flotilla brochure.
Browse online now and get inspired for your next flotilla.