England's naval heartland
Located in the naval heartland of England's south coast, Portsmouth offers exciting, invigorating sailing conditions perfect for experienced sailors. Strong winds create the opportunity for thrilling tacks and gybes, with many famous races and regatta taking place in the waters of the Solent and the Isle of Wight.
Walk the impeccably restored decks of Lord Nelson's historic HMS Victory, which led the Royal Navy fleet in the Battle of Trafalgar and was to be the site of Nelson's tragic death. Cross the Solent to the Isle of Wight, home to the celebrated Cowes Week regatta and a popular, picturesque island resort. Further still, the English Channel gives way to France, where you can indulge in the culture and cuisine of the continent.
Closer to home you'll find the ancient woodland of the New Forest, where royals have hunted game and passed their leisure time for centuries. As well as excellent, easy hiking, the New Forest is home to a number of traditional, affluent towns and villages left largely unchanged for hundreds of years. As a sailing ground and a vacation destination, the Solent has few rivals.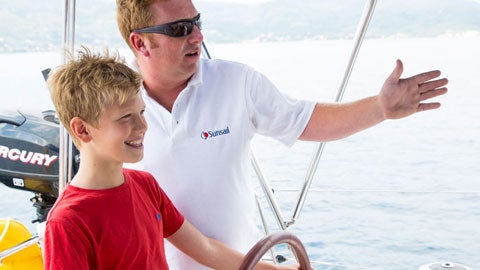 Sailing schools
Learn to sail at one of our bases. From the Mediterranean to the Caribbean, Thailand to Australia, or even a bit closer to home at our Port Solent base, our RYA qualified instructors teach you all the skills you'll need on your sailing holiday.
View Courses
Experience required
Sailing experience level
3
At least 20 days or 400 miles as skipper on an equivalent size yacht
Level 3 destinations are our most challenging. Suitable only for confident, experienced sailors, Level 3 destinations offer long spells of open water sailing, broad tidal ranges, strong winds and remote anchorages.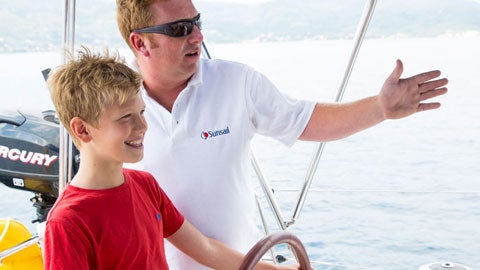 Try a skippered holiday
Relax and let your skipper take charge
Be as hands on or laid back as you like
Learn from an expert skipper
Gain local knowledge and recommendations
Peace of mind and safety on the water
Discretion and privacy when you need it
Learn more
Sailing conditions
Max temp (°F)
Min temp(

°F)

Avg precipitation
(mm)
Avg wind speed
(knots)

Dominant wind direction
Portsmouth (UK)
January
46
39
60
6
S
February
46
37
39
10
SW
March
50
39
37
9
SW
April
54
43
40
10
SW
May
59
48
33
11
SW
June
63
52
34
11
SW
July
68
57
37
8
NW
August
68
57
39
6
NW
September
64
54
37
3
SE
October
59
50
64
7
NW
November
52
43
59
8
E
December
48
39
70
13
SW
Address
Lock Approach
Port Solent Marina
Portsmouth, Hants
PO6 4TJ England
Base opening hours
Mon-Fri: 8:00am - 6:00pm
Sat: 8:00am - 10:00pm
From November to February
Mon-Fri: 8am-4pm
Weekends dependent on charter arrival/departure