Breach Dubrovnik's mighty walls
One of Croatia's ancient coastal cities, 'the Pearl of the Adriatic' is numbered among the best-preserved medieval walled cities on Earth. Croatia presents conditions ideal for those new to coastal sailing, with gentle winds and fine weather promising many pleasant hours on deck. For those with a taste for adventure, occasional mistral winds up the ante and present more challenging conditions. 

Dubrovnik's historic fortifications surround picturesque white stone buildings, their terracotta roofs standing out in contrast to the rich azure blue of the Adriatic beyond. The Old Town is a taste of Mediterranean life from another era. The harbor is overlooked by Dubrovnik's ancient citadels and scattered with a number of spectacular Renaissance palaces leading on to a warren of pedestrian-only streets. Crystal-clear blue waters give way to white-sand beaches and secluded coves, while the thousands of Croatian islands offer endless opportunities for adventure.
Just outside Dubrovnik harbor, you'll find the first of Croatia's many isles: densely-wooded Lokrum, home to the ruins of a Benedictine monastery. Sail north and discover Mljet National Park - home to natural harbors, stunning beaches and tidal island lakes - and the island getaways of Korčula and Lastovo. Beyond are the countless islands of the Dalmatian coast and a wealth of golden beaches, delicious seafood restaurants, and exciting nightlife.
Suggested bareboat itineraries
Choose Dubrovnik as your base for a Croatian bareboat charter vacation. Strike out on your own and sail the calm, coastal waters of the Adriatic, mooring where you choose and exploring as you please. This is the perfect option for more experienced sailors looking for a unique Dalmatian Coast adventure.
Flotilla itineraries
The most sociable way to tour the Adriatic by yacht, a Croatian flotilla vacation allows you to join a group of other boats led by an experienced lead crew for a communal trip along the Dalmatian Coast. Enjoy the best Croatian leisure activities with your new friends, improve your sailing skills in a safe, fun environment and take in some of Dalmatia's most beautiful scenery as you set sail from Dubrovnik and tour the scattered islands of the Adriatic.
Experience required
Sailing experience level
1
At least 5 days or 100 miles as skipper on an equivalent size yacht
Our intermediate sailing destinations, Level 1 sailing areas offer a greater challenge for sailors more comfortable on the open water. Enjoy strong winds and longer spells of open water sailing, suitable for more experienced skippers.
Qualifications required
ICC
International Certificate of Competence
To sail in this destination you'll need at least an ICC or an RYA Day Skipper qualification or above.  Original license/certificate must be presented upon check at the base.   
VHF licence required
Skipper requirement
Competency required for bareboat charters with yachts up to 30 GT (gross tonnage)
A list of officially accepted licences is available at the Croatian Ministry of Maritime Affairs. Please check the list of officially accepted licences before contacting the base with any queries as the list is updated every few months. This list is organised by country and details the accepted competence levels for experience, boat size and distance-from-shore-sailing for the various certificates accepted.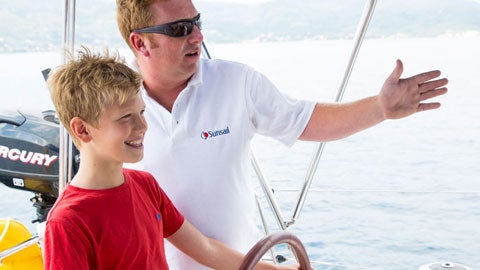 Try a skippered holiday
Relax and let your skipper take charge
Be as hands on or laid back as you like
Learn from an expert skipper
Gain local knowledge and recommendations
Peace of mind and safety on the water
Discretion and privacy when you need it
Learn more
Sailing conditions
Max temp
(°F)
Min temp
(°F)
Avg precipitation
(mm)
Avg wind speed
(knots)
Dominant wind direction
Gorica (Dubrovnik)
January
45
32
139
10
NNE
February
48
34
125
10
NNE
March
54
37
104
10
SE
April
61
45
104
9
SE
May
70
52
75
8
SE
June
77
57
48
7
SSE
July
82
61
26
7
SSE
August
82
61
38
7

SSE

September
75
55
101
8

SSE

October
66
48
162
8
NNE
November
55
41
198
10
NNW
December
46
34
178
10
NNE
Address
ACI Marina Dubrovnik,
Na skali bb, Komolac,
20236 Dubrovnik,
Croatia
Base opening hours
Mon-Fri: 8am-4pm
Sat-Sun: 8am-7pm