.
Learn to sail in Croatia
Sail the magnificent cruising grounds of the Dalmatian Coast and discover lush islands, sparkling bays and quiet, ancient towns. 
Our Croatian sailing school is located in the attractive Marina Agana, set in the picturesque village of Marina and overlooked by an old fort. Set sail with your crew mates and an experienced skipper as you learn the ropes out on the Adriatic. 
Get RYA qualified and enjoy a fantastic Dalmatian Islands flotilla adventure with our Flotilla Hero package. The most fun, sociable way to get charter ready. Learn more on what to expect on the Hero / Starter Flotilla courses in Agana Hero / Starter Joining Instructions.
Agana sailing school is open from April to November, with a range of options available for booking. If you'd like to book, please call one of our Vacation Planners today.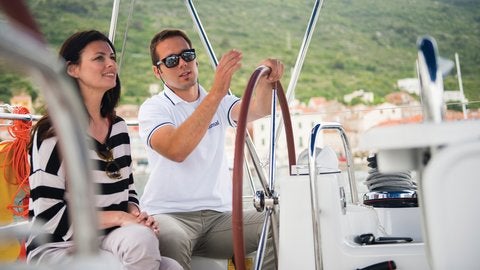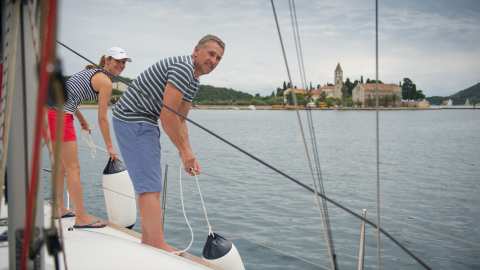 Prices and availability
Level

Course

April and November

May and October

June-September

Beginner

***

***

***

Beginner

Flotilla Starter
**
**
**
Some experience
Flotilla Hero
**
**
**
Intermediate

***

***

***
**For availability and Flotilla Starter & Flotilla Hero prices please call our Vacation Planners.
Practical information
What to bring
Tickets, money and passport.

Warm weather gear: a hat, sunglasses, sun cream, shorts, T-shirts, beach towel and swimwear.

Cool weather gear: a lightweight jacket, comfortable trousers or a tracksuit, deck shoes, sailing boots or white-soled trainers. We do not recommend jeans as they take a long time to dry. For hygiene reasons, we do not hire out sailing footwear.

Please note: all personal items are brought at your own risk.

Please only use soft sided folding bags, as they are easier to store on the yacht. However we do have a storage space on base for hard cases.

Please note: you are advised to bring light waterproofs with you.
Accommodation
You will be sleeping on board in shared cabins.

 Sheets, pillows, blankets and shower towel are all provided.

Bring your belongings in a soft holdall as there is little storage on board

.
Catering arrangements*
Breakfast, lunch and non-alcoholic beverages are provided on board together with one evening meal. You are welcome to purchase locally any extra nibbles you may require, but there are a number of restaurants to dine at every night.

We do not specifically cater for vegetarian or other dietary needs and we therefore suggest you bring alternative provisions as required.

Evening meals are at your own expense. Your skipper can recommend good restaurants at each overnight stop.

You will be expected to help with the cooking, washing up and general housekeeping of the yacht.
* Applies to RYA Day Skipper and RYA Competent Crew courses only.  For Flotilla Starter & Flotilla Hero catering arrangements please call our Vacation Planners.
You can find additional helpful information in our Agana Sailing School Joining Instructions.
RYA Day Skipper practical and RYA Competent Crew
RYA Day Skipper practical candidates must have completed an RYA Day Skipper theory course or have equivalent knowledge and are encouraged to read the RYA Day Skipper practical book beforehand as well. Day Skipper theory courses can be taken at our Port Solent, UK school or online.
Successful completion of this course will provide you with RYA Competent Crew or Day Skipper qualification. For the Day Skipper course, each candidate should bring a passport photo for certification paperwork.
Log book for RYA courses
We recommend you have an RYA log book for your course. If you have not already ordered a log book you can purchase one from our office. If you ordered one when you made your booking it will be sent out to you.
Recommended reading for RYA courses
RYA practical and/or theory course books. These can be purchased in advance direct from the aftersales team at the Sunsail Port Solent Office or the RYA.
Luggage
For on board storage we recommend travelling light and using folding luggage.
Airport
Split Airport is located nearer to the town of Trogir than Split and is 40 minutes from our Agana base. 
Split Airport facilities
Money and communication: there is a bank with a bureau de change. There are telephones in the airport as well as a post box inside the terminal.  
Eating and drinking: a
 buffet-style snack bar is located next to the check-in area.
Shopping: there is a small duty-free shop.
Transfers
If you have booked a boat only vacation, we request that you send your travel arrangements to us so we can assist with transfer details where required.
Please note: guests arriving separately should bring a copy of the charter contract/invoice. You can elect to pre-book and pay directly to the driver, or organize your own taxi at the airport.
Approximate costs of transfers are listed below: 
Split Airport – Agana Marina

Taxi / Minivan

1-3 persons; 305 HRK/car

4-7 persons; 495 HRK/minivan

 8+ persons; 68 HRK/person 

30-40 minutes

Split  Harbour- Agana Marina

Taxi / Minibus

1-3 persons; 640 HRK/car

4+ persons; 135 HRK/person

1hr 15 minutes
Luggage
We would highly recommend packing prescription medicine and essential clothing (swimsuit, T-shirt and shorts) in your hand luggage as occasionally your luggage may arrive at the base after you do.
Please pack using soft-sided bags, as these are easier to store on your yacht.
Passport and visas
Please ensure your passport is valid for the period of travel and for six months after you return. Your passport name must match the name on the flight ticket otherwise you may not be able to travel and insurance may be invalid.


EU Passport holders do not require a visa.


Non-British passport holders should check with their local consulate directly.
It is the responsibility of each individual to ensure relevant visas are obtained where necessary. Sunsail cannot be held responsible for refusal of entry or travel due to lack of visas. If you are in any doubt please contact your Embassy for full details.
Customs and immigration
Before leaving the airport you will have to clear customs and immigration.
Course provisioning
For RYA Day Skipper and Competent Crew courses, your yacht will be already provisioned the five-day course. Breakfast and lunch on board is included every day. In the evenings, you and your crew will normally go ashore to enjoy a meal at a local restaurant. Dinner is provided on board during night sailing sessions. 
Marina fees
Mooring/marina fees are not included in the course fees and are generally split amongst the crew. 
Check Agana base's eGuide for more information on berth prices or contact the base.
Children on courses
Sunsail welcomes your older children on any of our courses at any time of year, provided they are accompanied by at least one adult.   However, to participate in courses they must meet the minimum age requirements.
Competent Crew Certification Course- Minimum age 12+
ICC and Day Skipper Certification Course- Minimum age is 16+
Respecting destinations
Sunsail remains committed to protecting the environment and supporting local cultures in our sailing areas. Over many years our clients have helped us to ensure that our presence does not negatively impact these areas. Please continue to help us leave these areas as good as or better than we found them.


Sewerage management. Always use pump-out facilities in marinas where available. Otherwise, please avoid discharge in busy anchorages and marinas and prevent contamination to humans and bottom sediments inhabitants by pumping out as far as possible offshore.

Avoid pumping oily bilge water or other hazardous substances into the sea.

Be litter conscious. Never throw rubbish overboard and minimize the use of plastics and non-biodegradable products.

Observe the laws that govern fish catch sizes, and the touching or handling of marine wildlife.

Keep a safe distance when viewing marine life, approach side-on and stopping with propellers in neutral.

Identify dark water areas as possible important shallow ecosystems.

Use mooring buoys where available. If anchoring, drop anchors in sand, away from living reefs.

Take care not to crush and 

break or disturb underwater life

with body parts, fins and equipment when snorkelling or swimming.

Avoid purchase of marine ornamental souvenirs and the harvest of endangered fish.
Photography
We have photographers on site at our bases throughout the season, and you'll be informed if one is present upon arrival at your base. If you have strong objections to close-up photography of yourself and your party, please indicate your feelings to the photographer at the time. 
Sunsail schools sales office opening hours
The office is open all year:
Mon-Fri from 8am-7pm
Saturday from 9am-7pm
Sunday and Bank Holidays from 10am-5pm
Agana base address
Sunsail Agana Marina
Agana Marina
Dr. Franje Tudmana 5
21222 Marina, Croatia
Tel: +385 21 889 477
Location
Our base is situated in Agana Marina in the small village of Marina. Just a short distance from Split airport and the UNESCO heritage towns of Trogir and Split, Marina is the perfect starting point for your visit to Croatia. 
Parking at Agana base
Parking spaces are available at the marina. However, we cannot guarantee parking spaces and are not able to reserve them. The marina operates these spaces on a first come first served basis. We do not take responsibility for anything that happens to vehicles using the car parking spaces. The cost for parking is about 75 HRK per day or 350 HRK per week. This is arranged and payable directly to the marina, not Sunsail.
There is an additional car park at the entrance to the marina, in the village.  There is no charge for these spaces, however they are outside of the secure marina.