Published: May 8, 2018 Terese Kerrigan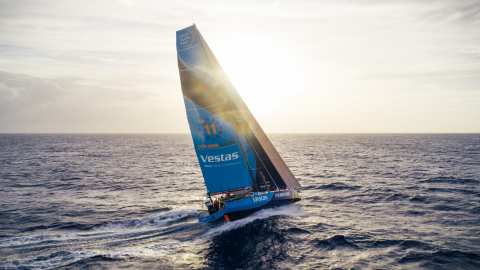 We always leave the dock and strive to win every leg. However, racing from Itajai, Brazil for Newport is uniquely special for us as it is a homecoming. My crewmates Charlie Enright and Nick Dana are both from Rhode Island, but I too have come to claim this area as another home since attending college there and sailing often in the smallest state. 
Beyond the sailing, this is also an opportunity to share with the world a significant message of sustainability and ocean conservation, which has been a passion of mine ever since I was just a young kid growing up in Hawaii. As a team, we are striving to leave a legacy behind that stems beyond the race itself by educating our supporters on how to protect our environment, and inspiring them to do so.
We have put sustainability at the center of everything we do on board. Throughout this campaign, we have been looking at every aspect of the team's logistics from travel to shipping, food and housing, communications and outreach. 
As part of this initiative, we are tracking our carbon footprint to offset it at end of the race. Team Vestas 11th Hour Racing will be the first team in the Volvo Ocean Race to do this. To accomplish this, we're working with an organization that focuses on blue carbon, meaning we will repair damaged seagrass or tidal march, which sequester carbon just like trees. 
I am proud that as a team, we have already sailed over 30,000 nautical miles. However, I am more gratified that we can say we have recycled 75% of our waste, removed over 186 kg (410 lbs) of trash from beaches, and prevented the need for 5,000 single-use plastic water bottles by using refillable water canisters. These are just some of the small steps we hope you too can emulate to lead a more sustainable lifestyle.
Did you find this useful?