Published: November 30, 2015 Terese Kerrigan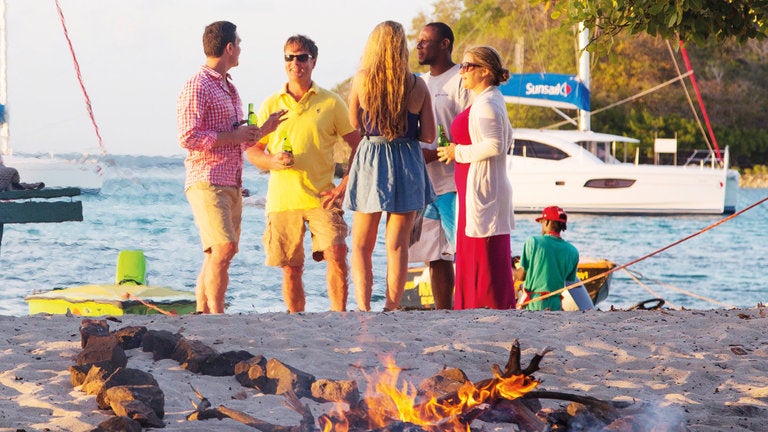 MY childhood memories of sailing vacations?
A heady, sensory cocktail made up of the following smells:
Diesel

The heads

Oilskin waterproofs

Seasickness
Those were the days – my brother, sister and I huddled in silent, miserable unity as my Dad sailed his 27ft Seamaster around the Cornish coastline. So, it was with some trepidation that we packed up Oliver and Esme, our six-year-old twins, for their first sailing holiday.
We needed not to worry – the moment they set eyes on our boat, a 444 catamaran called Skywalker, they were hooked. Even before we'd hauled the luggage aboard, they'd investigated every nook and cranny, from bow to stern. It's like a child's dream den – plus it doubles up as their very own pirate ship!
We chose the Ionian for its family-friendly sailing, with short hops between stops, calm seas, and plentiful beaches. And there's plenty to sooth adult souls too, with stunning turquoise waters, picturesque harbors, and delicious food in quaint quayside taverns. As we sailed, Oliver and Esme took turns at being "Captain" at the helm or "Lookout", spotting landmarks and navigation buoys. Or even, to our greatest surprise, simply laying back and watching the world go by (albeit until they started squabbling).
We were on the Kefalonia Flotilla, along with 10 other boats, plus our lead boat Quest. As it was half-term, most of them had been chartered by families, so Oliver and Esme had a gaggle of mates from day one – it was lovely watching them piling on and off each other's boats or grabbing their swimming cossies and heading for the water.
Throughout the week, when the weather threw everything at us, our lead crew were heroes! Whether seeing the last boat out of port in the morning or waiting in the pouring rain at the end of the day, Skipper Tom was steadfastly cheerful. Engineer Ray was a magician, fixing outboards, untangling painters from propellers and diving down to uncross anchor, after anchor… after anchor. Hostess Claire ensured we knew where we needed to be and what was worth seeing on the way. Plus, she kept us entertained with quizzes, cocktail competitions, and top-of-the-mast egg drop challenges (she mixes a mean punch too).
Seeing the bright flags of Quest at each port or mooring was a reassurance. So, if it's reassurance you're after, a Flotilla sailing holiday is the way to go.
TOP TIPS
Consider a catamaran
As a lifelong monohull sailor, I'll admit I was a bit snobby, but space and stability make a catamaran excellent for energetic young children. It can easily sleep two families, giving each their own "hull", with plenty of space up top (great for hosting a G&T end-of-day catch-up!).
Fall for a Flotilla
Having other children around at the start and end of the day was perfect entertainment for our two, giving us time to get to know our fellow crews. And, in the summer holidays, Flotillas from Lefkas have a Kids Coordinator organizing daily activities to keep them busy while you relax (or top up your glasses with the local beverage!).
Maximize your peace of mind
With less to worry about, you've got more time to enjoy your vacation! Sunsail provides children's lifejackets, plus we requested safety netting as an extra, removing any worry about tripping over, etc. on their first trip out. We also set the rules early on – the kids stayed below when setting off or mooring up and they weren't allowed on the deck while we were under sail.
Hire your own pirate captain
At the last minute, my poor Dad fell ill and couldn't join us and, though I grew up sailing, I'm not qualified yet. Thankfully, Sunsail came through with Skipper Laura. We hadn't thought to hire a skipper, but if you want to experience sailing without getting qualified or prefer to let someone else take the helm, it's perfect. Laura let us get involved when we wanted, giving us tips on our sailing technique, or took control when we were hanging out with the kids. Whether being winched up masts, learning the delights of rainbow looms or listening patiently to the finer details of Minecraft, Laura was a hit (sorry Dad)!
Get them involved
Spotting landmarks, making knots, rowing the dinghy, fishing off the back – there's so much to do that you won't do at home and Oliver and Esme loved it!
But what did they actually think? Here are the top 5 things they loved about their first sailing vacation:
Oliver's faves:
Our boat called Skywalker!
Falling off the paddle board – a lot
Practicing winching with the winch handle
My new friend Wilf's mom teaching me to paddle a kayak!
The punch party when Host Claire made us our very own punch!
Esme's faves:
Making lots of new friends
Rowing the dinghy under the boat!
Helping Mom and Dad steer the boat
Pretending to be a captain on our own pirate ship
The beach barbecue, where we had a big bonfire with hotdogs!
Mom and Dad's faves:
It forces you to slow down!
Fiscardo, with its lovely quayside restaurants and coffee shops
The gizmos (FYI that's Dad's one!)
The crew – they were truly amazing – upbeat, charming, helpful and fun to be with throughout (and the kids loved them!)
Meeting lots of new people with a shared love of sailing (and an appreciation of G&Ts)