Published: November 19, 2015 Terese Kerrigan
So, how about getting qualified and enjoying your sailing vacation at the same time?
That's the Flotilla Hero – for the cost of a week's Flotilla sailing with a skipper, sailors can also get their International Certificate of Competence (ICC). Accompanied by an RYA-accredited instructor throughout, up to three crew members, aged 16 and over, are taught the skills and knowledge needed to enjoy a Mediterranean yacht charter without having to hire a skipper.
For 'old salts', it's the perfect way of meeting the legal requirements for chartering, without sacrificing leisure time out on the water. It also provides an accessible way for new customers to get into sailing. And, even better, it's an affordable experience they can share with their loved ones.
The curriculum covers the Royal Yachting Association (RYA) Start Yachting course, RYA Essential Navigation and Seamanship (ENAS) online course and ICC course and assessment. However, customers needn't worry about it being 'all work and no play'. As Simon and his family found out, there's still time to enjoy Sunsail's signature Flotilla sailing experience:
Each day our task was to sail to a new port, but on the way we were free to find a bay in which to anchor, or take a longer route. Usually our plan was to find a secluded spot for picnics, shell collecting, a swim and sunbathing on the foredeck.


Some evenings we ate aboard, other nights we joined the group in restaurants and heard about sails collapsing, masts hitting bridges, collisions, running aground, getting fishing lines tangled in the propeller, arriving in the wrong port — it all happens, he said.
And, you'll be 'learning the ropes' in two of the most beautiful cruising grounds in the world. Originally launched from Sunsail's recognized RYA training center in Agana, Croatia, the Flotilla Hero now sails from Sunsail's base in Lefkas, Greece as well, with a number of routes to choose from. There are no shortcuts when it comes to boats either, with every vessel certified to the RYA's rigorous standards. Despite being new to sailing, the Millers were delighted with their Sunsail 47 monohull: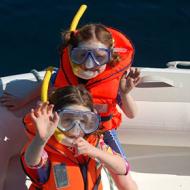 Our temporary home was an instant hit with the children — Flora, aged eight, Celia, seven, and Tabitha, four. The yacht was like a playground — cosy cabins to curl up in, decks on which to scramble around, gizmos to play with, ropes to pull and loos called 'heads'.


With four cabins, we had plenty of space. The cockpit area converted into a dining table for eating outside, or we could use the table in the saloon. The boat came equipped with all the cooking utensils, crockery and cutlery required, as well as an ample range of flippers and snorkels to suit all sizes, they said.
And, for those still concerned about bringing young families aboard a monohull, Sunsail has recently added the Sunsail 444 catamaran, allowing customers to enjoy the increased stability and space. Ultimately, as with most sailing experiences, you get what you put into it, and for those with a 'work hard, play hard' mindset, the Flotilla Hero is a thoroughly rewarding experience. As Simon puts it:
For anyone considering a Flotilla sailing vacation, just remember: this is not a sun-lounger escape — those sails don't hoist themselves — but you won't regret it for a second.

So, if you're looking for a fulfilling vacation experience, the chance to share treasured memories with friends and family, and the skills to charter (not to mention the bragging rights that go with it), perhaps you're in need of a Flotilla Hero.
Who it's for:
Seasoned sailors without a recognized sailing qualification
Those who are new to sailing who want to charter in the future (some experience needed*)
New sailors wanting to build confidence
What's included:
Standard Flotilla sailing inclusions
RYA/ICC certified instructional skipper for the week
RYA Competent Crew (up to 3 crew members. 4 if only 1 person takes the ICC and ENAS course)
RYA ENAS online course (up to 2 crew members, to be completed prior to departure from the UK)
ICC course and examination (up to 2 crew members)
A year's free RYA membership
Why we love it:
A great starting point for sailors looking to get their RYA Yachtmaster Offshore qualification
Two for the price of one! Enjoy a social sailing vacation and get ICC-qualified
It's sailing in some of the world's most beautiful cruising grounds
It makes yachting vacations more accessible for aspiring sailors
Gives a sense of accomplishment and the shared learning experience with friends and family
No course fees!
*Compulsory for ICC: RYA Start Yachting or Flotilla Zero package and completion of the RYA online ENAS course (prior to departure). Recommended for ICC: RYA Competent Crew and GMDSS Radio course.