Published: November 30, 2017 Amanda Cole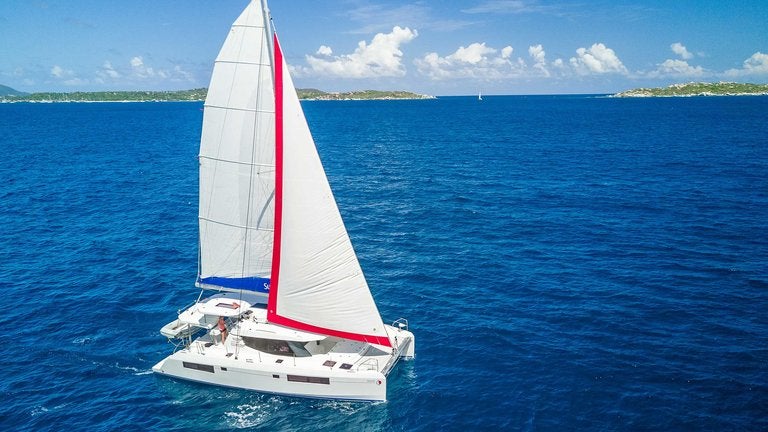 We've heard it all before.
"The Caribbean is far too difficult to get to. It's just a playground for the Richard Bransons of the world, right?"
Or
"What If I get surrounded by sharks, with pirates waiting to pounce?"
Hearsay and negativity often hold people back when it comes to the more intrepid sort of off-resort Caribbean vacation. The reality couldn't be any less intimidating, as warm, mild trade winds help you weave between sun-kissed atolls on an impossibly blue sea.
For those looking for a true slice of adventure, for those with a yearning to explore unique cultures, and for those on a holy quest for the world's finest rum cocktails, the Caribbean is a sailing mecca, and there's no better way to truly see it than by boat.
Stick with us as we bust the myths and lift the shroud to open your horizons. The first rule is to relax, something they know a thing or two about in the Caribbean.
Getting there
The prospect of transatlantic flying can be daunting, and at times getting to some of the more remote (and often most worthwhile) places has been a bit of a challenge involving multiple airlines and long waits in sparsely furnished airports in tropical climates.
You'll be pleased to know though, that as the world becomes a smaller, better-connected place, it plays to your advantage. American Airlines and Jetblue now have a variety of routes to the Caribbean from the US, and they have made it possible to go directly to St. Lucia, Grenada, and Antigua.
St Martin is easily accessible with a connection via mainland Europe, meaning that you can, if time allows, take in the sights and sounds of cosmopolitan Amsterdam or gay Paree en-route to tropical bliss.
Locally, there are new airline options opening up in the Caribbean all the time, with operators like Inter Caribbean and VI Airlink springing up to add to the existing LIAT flights into the BVI from Antigua.
Young, reputable aviation upstarts like Norwegian are also challenging the established players, with low-cost flights into Puerto Rico (an easy hop to the BVI) a good example.
But what about travel cost?
Our advice is twofold:
Plan early and book in advance. This is the best way to manipulate the supply and demand nature of airfare ticket prices. Though it is possible to find the occasional late deal, it isn't very likely for long-haul flying.


Be flexible: starting your vacation on different days of the week can save you money, so being willing to go on a Wednesday, for example, when demand is lower could get you the best deal. If you're planning a Sunsail vacation, our flexible start dates for the Caribbean make it even easier for you, and it is always worth asking us what price we can get your flights for.
We always suggest you fly with an ATOL-protected company, because this protects your entire trip, ensures you do not lose money and means you won't be stranded abroad and left high and dry. Sunsail are fully ATOL protected and ABTA bonded, and we can arrange every aspect of your vacation for you.
If you're a frequent flyer who wants to make sure you get your air miles or other reward points, don't worry, as we can handle that, too.
So, take great peace of mind that your booking is all in one place and we'll let you know when your tickets are ready and what you need to do next.

Cost of living
So now you're there, won't mooring costs be a challenge? The answer is no, not if you're smart about it.
Take the BVI for example; unless you plan to visit an all-inclusive yacht club or resort, you can rub shoulders with the locals at the rustic dinner shacks and bars you'll find nestled among many of the bays.
Caribbean moorings tend to take the shape of well-maintained buoys, much easier than classic Med-style stern-to mooring, and it cost around $30 a night pretty much everywhere you go.
The fee is normally collected each evening by the local bar or restaurant (who maintain the buoys) by dinghy as the sun goes down, and they'll offer a little casual chit-chat and let you know about their catch of the day, should you want to eat ashore.
Eat the fish
Don't neglect the galley: your yacht will have a fully-kitted galley (and many have a stern BBQ), and cooking and eating aboard is rewarding, fun and economical. If you've got a fishing license, you can even catch your own supper.
When to go
Temperatures usually hover around the mid-twenties from November to April, and the Caribbean is an amazing year-round destination, offering some of the world's best weather at any given month of the year. Yes; there is a hurricane season, which officially runs from the beginning of June to the end of November.
It's important to point out that direct hits on many of the islands are very rare. Islands in the southern part of the chain, like Grenada and St Lucia, are largely unaffected year on year.
However, since Hurricane Irma in September 2017, we have made the decision to close our BVI base during this time of the year. This gives our sailors the freedom to roam outside peak hurricane season, without having to worry about freak weather conditions.
The rest of the year sees largely dry, warm-to-hot weather, with the odd tropical depression coming in short and sharp, and over before you know it.
Winds and sea states can get a little more lively around Christmas and New Year, which is actually the peak time for visiting, particularly in the yachting community.
Embrace the lifestyle
Once you've arrived, you can abandon all your pre-departure worries, and lose yourself in laid-back local attitudes as you cruise from island to island. Choose between easy sailing over short distances or longer open-water passages, for more of a challenge. Stop off for lunch and a swim, paddleboard or kayak. Dip your toes off the stern into soothing cobalt water as you make your way along the archipelago. After sailing, moor up and toast to a superb day in paradise with a cool, well-earned beer or cocktail. Sheer bliss.
And as for those ruthless, swashbuckling pirates of the Caribbean; while we always advise that you travel with caution, they're mostly the preserve of history books, tour guides, and Hollywood blockbusters now. Although you may just find that X marks the spot if you venture out to Norman Island in the BVI. Steeped in legendary tales of bravado and buried treasure, it is rumored to be the inspiration behind Robert Louis Stevenson's Treasure Island.
Are you still here?
So now you know that getting to the Caribbean is but easier than ever, and won't break the bank. You know when to go and how to enjoy blissful conditions, Caribbean-style. What are you waiting for? Give us a call on 888 350 3568 to book your Caribbean adventure today.