We look for innovation in the design, build, and materials used to create our yachts as well as exploring new ways to power them.
Electric Outboards 
Sunsail introduced electric outboard engines for premier plus monohulls in the Mediterranean this year! This remarkable development represents a step towards offering a more sustainable and eco-friendly vacation experience with us.
The ePropulsion Spirit 1.0 Plus Electric Outboards, provide 1kW of power, equivalent to 3.5HP. With a single charge, you can cruise at a speed of three to four knots or cover an impressive 22 miles at 4.5 mph. These electric outboards start at the touch of a button and are incredibly maneuverable, offering a hassle-free and enjoyable experience. Not only do they contribute to a greener environment, but they also require minimal maintenance.
In terms of efficiency, the electric outboard is designed to provide more than double the number of charters compared to its gas-powered counterparts. Moreover, the batteries in these outboards can be replaced as needed and are fully recyclable, ensuring a sustainable lifecycle. Additionally, the battery of the electric outboard is buoyant, eliminating concerns if it accidentally falls into the water. This feature provides peace of mind to customers, ensuring a worry-free experience on the water.
With a total weight of under 44 lbs, the electric outboard offers exceptional convenience. Its lightweight design allows for effortless removal and battery charging using the provided 12V charger, typically requiring only one recharge during a week-long charter. This is particularly advantageous for charterers and guests in the Mediterranean, where removing the outboard engine from the dinghy onto the yacht while underway, is a common practice. The reduced weight of this outboard also enhances practicality.
Another benefit of the electric outboard is its near-silent operation. Minimizing noise levels, greatly reduces disturbance to marine life, allowing for a more serene and harmonious boating experience.
Replacing traditional outboard motors with electric outboard engines has allowed us to reduce our customers' fuel consumption by around 1.3 gallons per week. With 40 electric outboards now in place for the Mediterranean season this will equate to a saving of around 1,600 gallons of fossil fuel. We are committed to reducing our carbon footprint and promoting sustainable practices in the boating industry and are excited to offer our customers a more eco-friendly option that combines excellent performance with environmental responsibility.
Read more here: Electric Outboards in the Med | Sunsail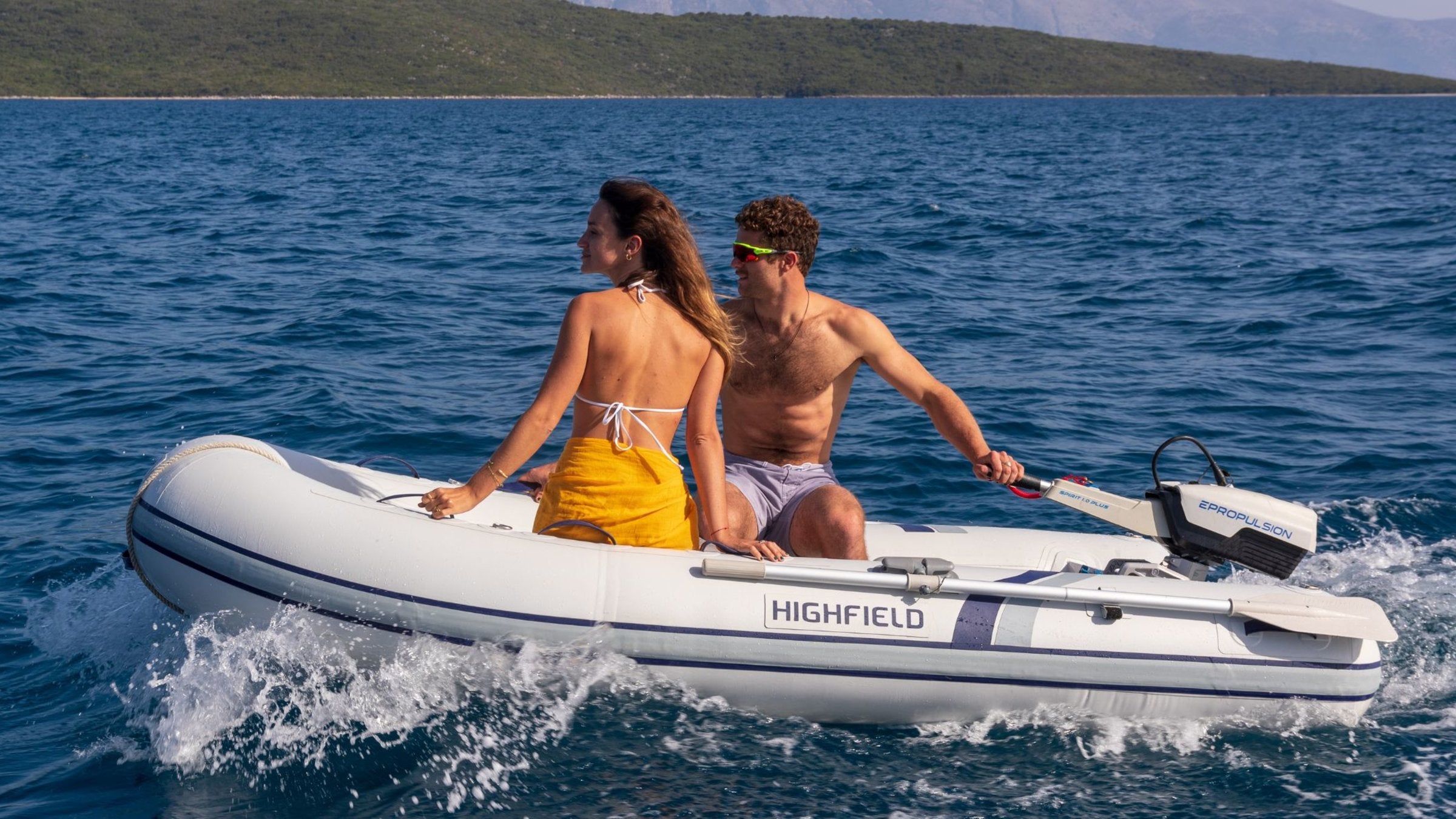 Replacing antifouling
Let's dive under the waterline.
Obviously, our yachts sit in the water, and therefore the submerged part of the hull need to be protected. For years, most yachts are treated with a chemical anti-fouling paint formulated with biocides. These chemicals can be harmful to the ocean and marine life: however, it is essential that the yacht is coated to prevent the 'fouling' of a boat's hull with organisms such as barnacles and seaweed. Failing to protect the hull will ultimately impact the performance of the yacht and its life cycle, meaning the yacht's life span will be significantly reduced
This has concerned us for many years, and we have trialed various alternatives in pursuit of a more environmentally friendly solution. We are now pleased to finally have an option that protects the yacht whilst simultaneously protecting our oceans.
MacGlide™ fouling protection first caught our eye in 2021. This replaces the traditional anti-foul paint with a silicone foil wrap that covers the hull of the yacht. The foil has non-stick properties which protect the hull from marine micro-organisms and can simply be wiped clean every 6 months. The fouling protection also has a 5-year guarantee, meaning this only needs to be fitted every 5 years vs traditional anti-foul that is applied annually.
We first tested the solution on 3 different yachts in 2021 in the British Virgin Islands and in Dubrovnik. We raised the yachts every 6 months and wiped the hulls clean and are really pleased with the results to date.
We are pleased to share that all our NEW 2023 monohull fleet in both Greece and Croatia are being fitted with this new technology. This is the first set of yachts that will not use any of the traditional antifouling paint and we are excited to be implementing this for all new monohulls in the Mediterranean moving forward. As the trial in the British Virgin Islands was also successful, we will be looking to introduce the use of MacGlide™ in this location as well in the not-too-distant future.