Published: April 19, 2018 Terese Kerrigan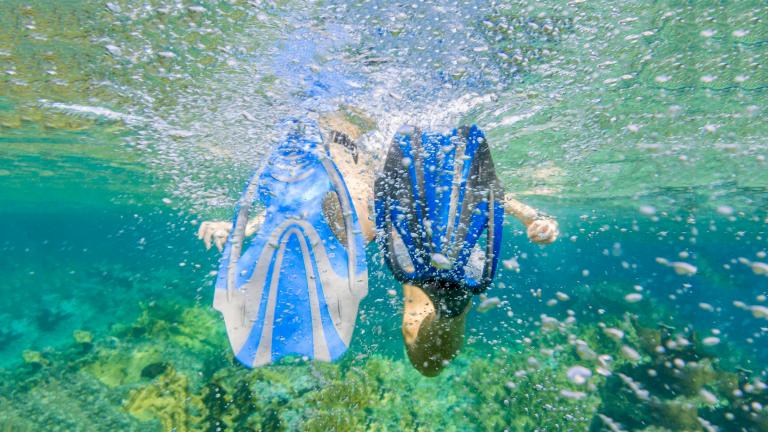 The British Virgin Islands (BVI) easily ranks as one of the best diving areas in the world. Why? Because few destinations can offer a more appealing mix of lush mountainous landscapes and utterly unique dives. If you're thinking of heading to the BVI, get ready to feast your eyes on baffling shorelines with idyllic anchorages, while exploring some of the most exotic underwater topography. Boasting over 75 established diving sites, its seafloors are just waiting to be discovered.
From snorkeling novices to advanced scuba divers, the BVI ticks every diver's box. If you want to discover an armada of shipwrecks and vibrant coral reefs, read on to see our top 8 locations for the ultimate diving experience in the BVI.


The Kodiak Queen
Depth: 57 feet
Level: Novice/ Intermediate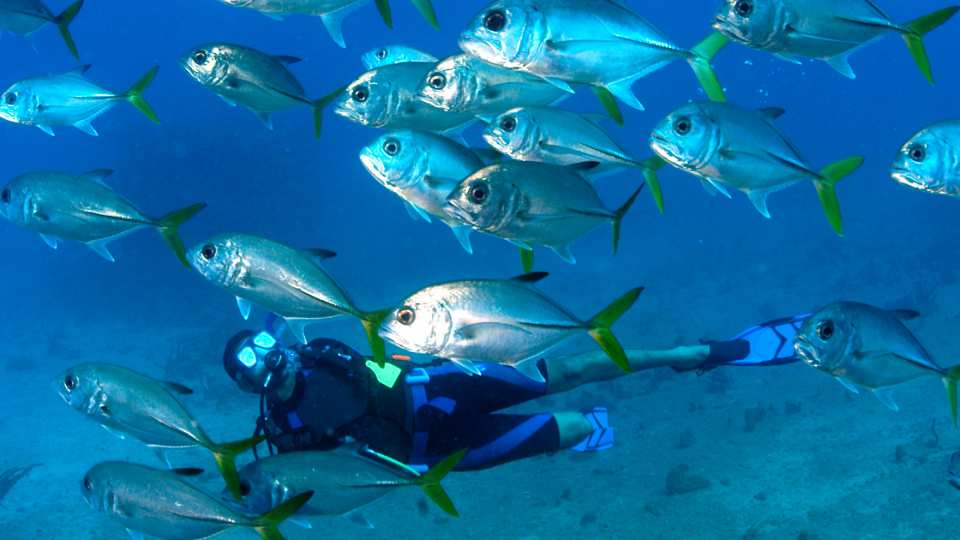 In March 2017, just off the coast of Long Bay in Virgin Gorda, The Kodiak Queen became an underwater art installation and a platform for coral restoration in the BVI. This former U.S. Navy fuel barge was one of only five ships that survived the attack on Pearl Harbor. After being rescued from a Road Town junkyard, the Kodiak Queen was transformed into a stunning artificial reef with the help of Sir Richard Branson.
Since, this WWII shipwreck has mobilized a global network of philanthropists, artists, and divers alike to explore the vast aquatic life Virgin Gorda has to offer. Near the southern beach take time to explore the gulleys, bubble caves and peacock flounder in the sand. With swimming, diving, and ocean education programs for the British Virgin Islands' youth and tourists, the Kodiak Queen hopes to encourage the next generation of ocean ambassadors! The abundance of sea life combined with an 80-foot long giant Kraken makes this shipwreck unlike any other, pushing it quickly to the top of every diver's bucket list.


The Chimney
Depth: 15-45 feet
Level: Novice/ Intermediate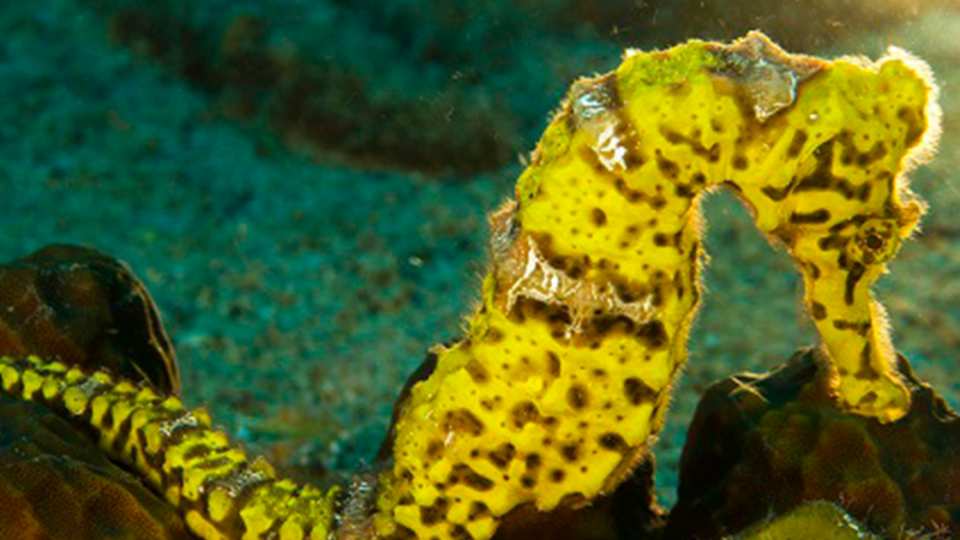 Off the western shores of Great Dog, the Chimney's beautiful archways encrusted with colorful cup corals are bound to impress. This area is allegedly Jacques Cousteau's favorite BVI dive site, and it's not hard to see why. The palette of colors are so spectacular there's no need for flashlights. Head to the aptly named Fish Bowl to see schools of parrotfishes, yellowtail snappers, angelfish, blue tangs, sergeant majors and so much more. Rumour has it, that because so many divers feed the fish, they are conditioned to the sound of opening Velcro - so be prepared to be surrounded by a sea of color!
Swim past the narrow corridor that ends with two huge rocks almost touching to explore the density of different marine life on the Chimney's walls. Catch glimpses of spotted rock lobsters, miniature shrimps and brightly colored sponges bubbling with life! Make sure you take the time to explore the base of the cliff to discover interesting wildlife hidden between the canyons and small boulders before returning to your mooring.


The Wreck of the RMS Rhone
Depth: 15-85 feet
Level: For all levels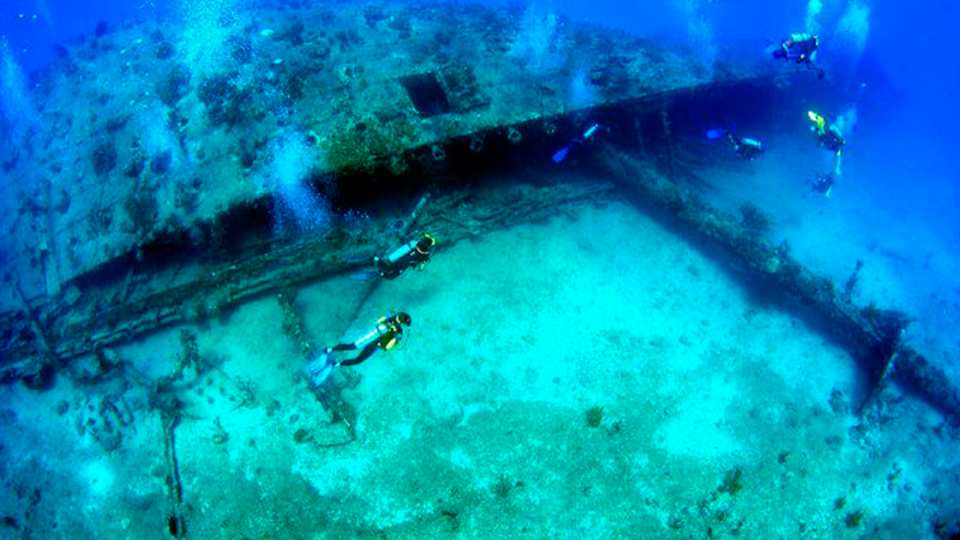 One of the most popular dives on BVI vacations is undoubtedly the RMS Rhone —and for good reason. As the first and only Marine National Park in the BVI, divers can explore the 310-foot wreck of a Royal Mail Steamer that sank after a fierce hurricane in 1867. Remarkably still intact, you can view the main deck, remains of the steam engine and its huge bronze propeller.
As anchoring is strictly prohibited in the Marine National Park, the trust have installed a number of mooring buoys for your yacht. However, if you'd prefer to leave your yacht outside the RMS Rhone, Peter Island and Salt Island Settlement have anchorages that you can use.
When the RMS Rhone sank, the ship split with the two halves and are now sitting 100 feet apart. Down on the seafloor, be sure to check out a group of black-white-tiles known as "the dance floor" and rub the brassy diver's "lucky porthole" for good fortune! With a number of interesting artifacts still preserved, bask at the silver teaspoon embedded in the debris and the RMS Rhone's heavy 100-pound wrenches.
Watch as history comes to life after more than a century on the seafloor. Don't be surprised if you come across barracuda, octopuses, lobsters, turtles, and morays on your travels around this hauntingly beautiful ship. With many dive masters taking their own twist on the misadventures of Captain Wooley, rest assured you'll come away with an unforgettable story tale diving experience.


Ginger Steps
Depth: 35-100 feet
Level: Intermediate
Across the Sir Francis Drake Channel, in between Cooper Island and Virgin Gorda, you'll find some of the healthiest coral formations in the Ginger Steps. The perfect afternoon activity for families on a yacht charter, Cooper Island is one of the few undeveloped private islands in the BVI, boasting secluded surroundings for intimate dives. Tucked into the calm waters of the south bay and situated 100 feet below the surface, the reef has 3 distinctive cascading steps that attract all sorts of marine life.
With great visibility nearly all year round, you can see shimmering star coral formations and tube sponges along the huge ledges. Look out for damsels, squirrelfishes, pompano, eagle rays and if you're lucky the occasional pod of dolphins!


Coral Gardens
Depth: 20-50 feet
Level: Novice
As the name implies, Coral Gardens boasts some of the largest and most beautiful coral formations in the BVI, but it also leaves something to the imagination. In 1993, as part of the BVI's artificial reef restoration programme, they placed the remains of an Atlantic Air 360 airplane in the Coral Gardens.
The plane is now without its tail and wings, but it still makes for some great photo opportunities under the water. With bright mounds of boulder star coral, tube sponges, brain coral, and gorgonians, it's easy to become mesmerized by the stunning red, purple and turquoise shades peppering the aircraft. Tucked in the east of Great Dog, this secluded and peaceful dive is perfect for beginners. From sand stingrays, goatfish and lobsters to lizardfish and the occasional blacktip shark, this dive is anything but ordinary.  


The Wreck of Chikuzen
Depth: 40-75 feet
Level: Advanced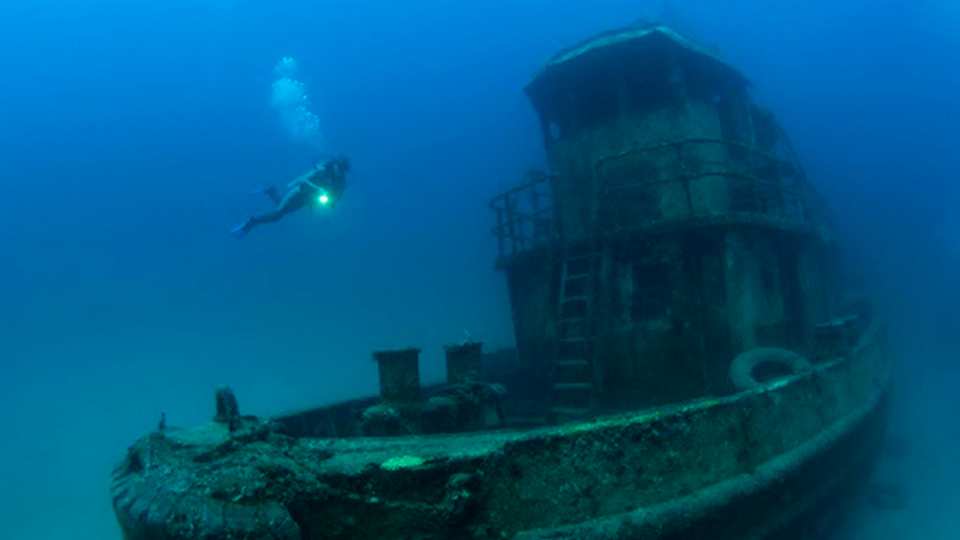 The RMS Rhone may be the go-to diving spot for shipwrecks among divers, but there is also something to be said about the incredible wreck of Chikuzen. The 246-foot Korean refrigerator vessel was scuttled intentionally and remains one of the few places where marine life thrives in the area between Tortola and Anegada.
Around 9 miles northwest of Virgin Gorda, this remote diving spot can only be accessed when conditions are calm. This is one of the reasons why Chikuzen is recommended for advanced scuba divers only, as regular 3 to 5 feet swells often hit off the vessel making it a more challenging dive. But if you're a bit of an adrenaline junkie and have the chance to go and explore this site, you won't be disappointed, as Chikuzen is widely known for its colorful and diverse marine life.
Swim past Atlantic spadefish, horse-eye jacks and swirling schools of barracudas while watching goliath groupers and eels poke their heads out to say hello. With the whole vessel covered from bow to stern in rich coral and colorful sponges, this site is not to be missed.


Blonde Rock
Depth: 10-65 feet
Level: Advanced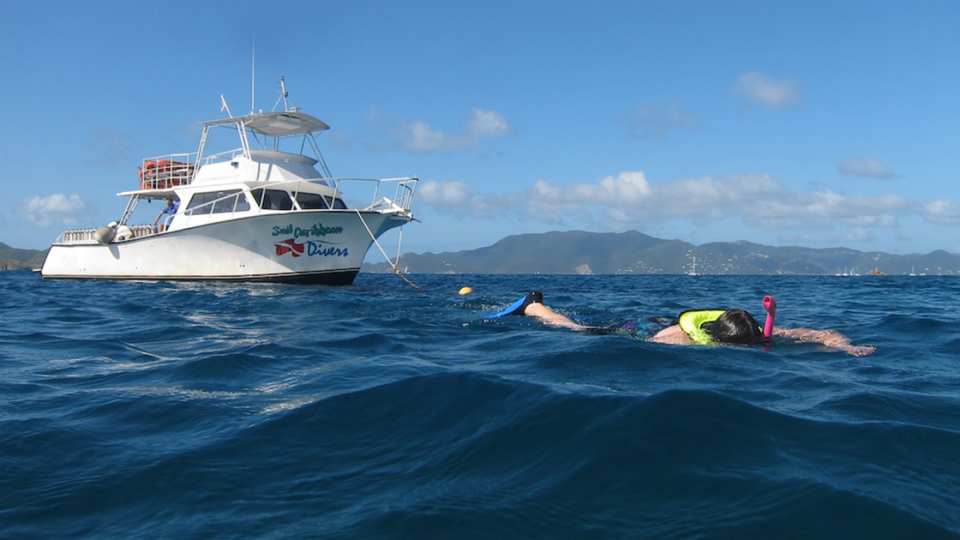 Just an 8-minute boat ride outside Peter Island will take you to the wonderfully complex underwater topography of Blonde Rock. Undeniably one of the best seamount sites in the BVI, why not grab your scuba-diving rental gear and explore this diving site for its phenomenal mix of marine life.
The remnants of volcanic eruptions on the islands have led to stunningly intricate seafloors and honeycomb coated rocks. It's not uncommon to come across your fair share of puffer fish, blackbar soldierfish, French grunts, glasseye snappers and more. However, as these seamounts are prone to unfavorable weather conditions than other reef sites, this dive is more suited to advanced divers.


Painted Walls
Depth: 10-45 feet
Level: Novice/Intermediate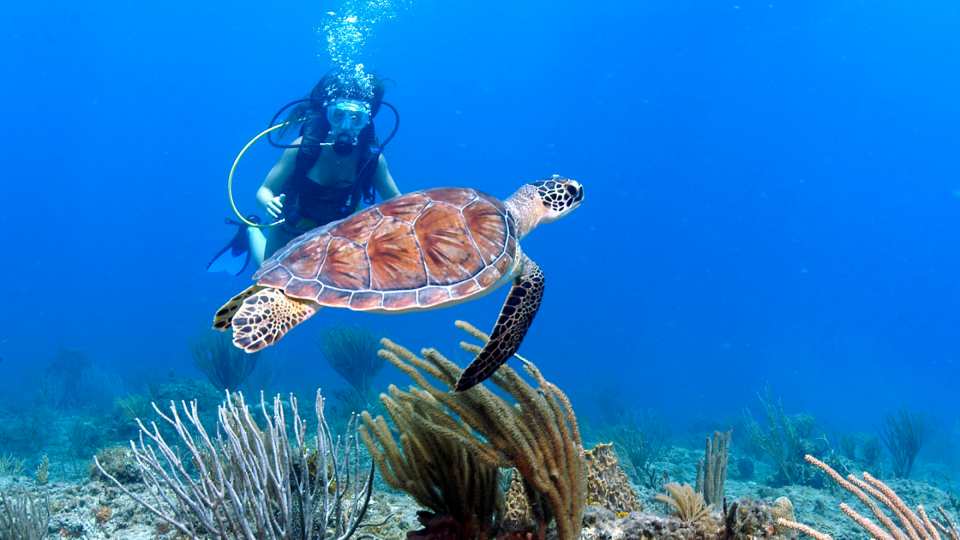 Known as the "technicolor box canyons", Painted Walls diving site just off the coast of Dead Chest Island is a popular favorite with locals and travelers alike. It's a spectacular sight when dappled light from the sun hits the wall's surface, enhancing the purple, green, yellow and red hues in the coral, making this an unmissable location for diving enthusiasts.
Alongside the color-popping coral reefs, it will also be hard to miss the green moray eels, hawksbill turtles and nurse sharks. Take your time to admire Blackbeard's old haunts of vertical walls and parallel passageways to truly understand why this site is one of the most photogenic routes in the BVI.
With such a variety of dive sites in the BVI, you can explore completely new areas of rich topography every day. From remote offshore pinnacles to lush coral gardens and fascinating shipwrecks, no two dives are ever the same.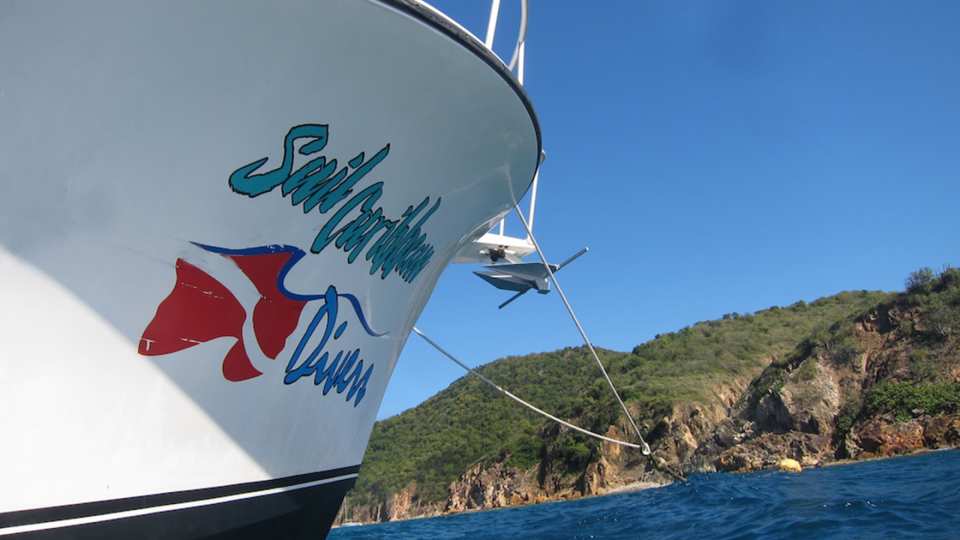 Regardless of whether you're skippering your own yacht or on a flotilla seascape, diving is the perfect activity before or after your day's sailing to compliment a BVI sailing vacation. Sail Caribbean Divers, one of the most highly-rated scuba diving companies in the BVI, run daily sessions from 8:00 am, 2:00 pm and evening dives just after sunset. They also offer rendezvous diving that picks you up in 1 of 6 locations across the islands near the dive site location. With your diving instructor, dive boat and all the necessary scuba diving equipment included, Sail Caribbean Divers make it easier than ever to book an afternoon exploring some of the world's most beautiful seafloors.