Published: July 27, 2022 Dominique Wright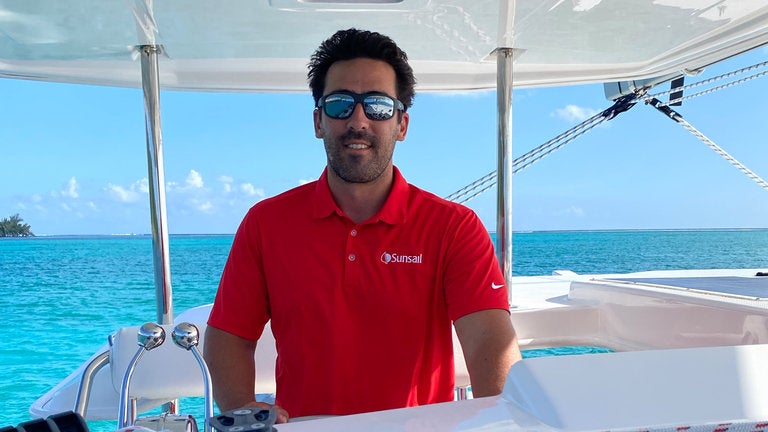 Mark Towill is the CEO of 11th Hour Racing Team of The Ocean Race as well as a Sunsail Ambassador. Mark recently went on charter in Tahiti with his family and shared his story here with us. Read more for destination highlights, tips for bringing toddlers on charter, and a fantastic story from a yacht racer spending time doing what we all love most. 
I often get asked why having grown up in Hawaii my family tends to travel to tropical destinations. Don't you want to experience something different? The reality is, while Hawaii and French Polynesia are connected in so many ways (Tahitians migrated to Hawaii sailing over 2,500 miles in sailing canoes utilizing the stars, wind, and waves for navigation), they are still immensely different.
Geographically, the Society Islands in French Polynesia are much older than those in the Hawaiian Islands. Their erosion over time has formed surrounding barrier reefs which create beautiful sandbars that shelter deep blue water, ideal for sailing.
This trip was the first for my growing family. My wife, Tahnee, and I welcomed our son, Jack, into the world in January 2021, and being ocean people, we couldn't think of a better first trip. French Polynesia has been at the top of our bucket list for longer than we can remember so to be able to share the experience with Jack was extra special. On top of that, our dear friends Dave and Lauren whose son Zephyr is the same age as Jack joined us and which was truly the icing on the cake.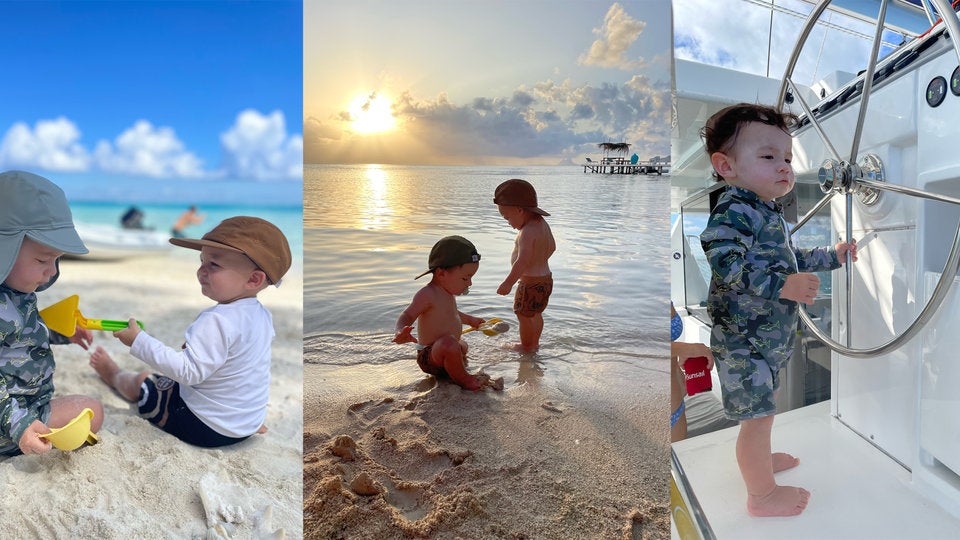 I must admit, we were quite nervous to bring two toddlers who had just learned to walk and can't swim on a week-long bareboat charter. Between the limited space, many tripping hazards, and the deep blue ocean, we were always on our toes. Looking back, I'm quite proud of how we handled the situation. We quickly found a good routine and like any offshore sailing team had a watch system for who was "on" watching the kids. A few learnings that were key to making the trip successful with toddlers were: 
The Sunsail Team rigged up toddler nets along the lifelines before we arrived which was absolutely essential. Make sure to request well before arriving.
We brought our own travel cribs and clip-on high chairs. We set up the travel cribs on top of the mattresses (there was plenty of headroom) and the high chairs on the table inside the cabin. This made sleeping and meal time easy and efficient.
Indoor activities – we brought plenty of books and games that were good for travel. No puzzles or blocks… you'd have pieces everywhere!
Timing is key. We did our best to time our sailing from one destination to another with the kid's nap schedules. It made sailing the boat easier and they seemed to enjoy it as well. Jack took the longest nap of his life!
Pick destinations with beaches. Getting the kids off of the boat and able to stretch their legs was hugely beneficial.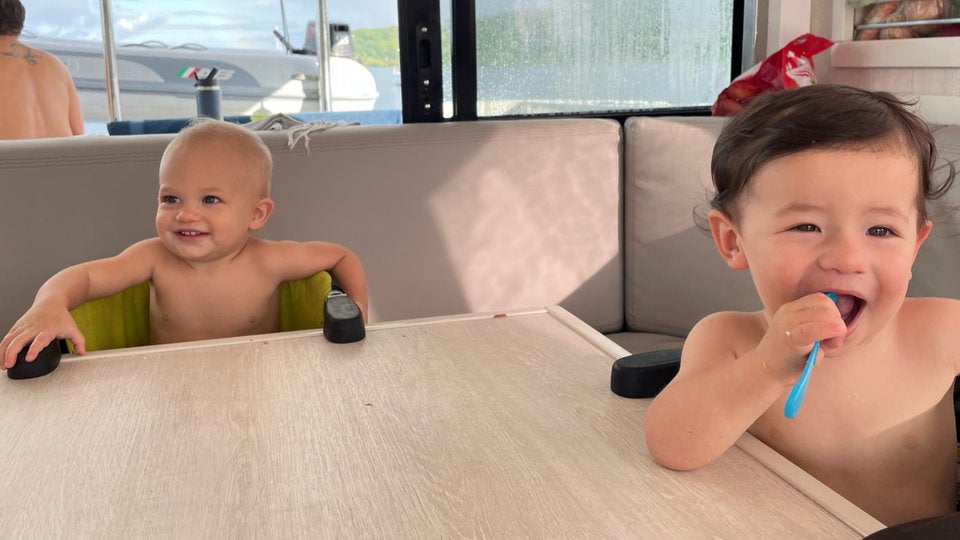 Day 1: Tahitian dancers and flower lei welcomed us as we stepped off the plane in Raiatea. We were immediately met by the friendly Sunsail rep and taken to the Sunsail/Moorings base just a few minutes down the road. The entire Sunsail staff were incredibly hospitable, particularly base manager, Sophie, who went above and beyond to make our check in experience smooth and seamless. While Dave and I familiarized ourselves with the boat with Sophie, Lauren and Tahnee went to the supermarket and gathered our provisioning for the week. Before we knew it, we were off to Apu Bay. Just a short journey across the main part of the lagoon between Raiatea and Tahaa, this was a calm and breathtaking journey as we finally were able to soak in the full beauty of French Polynesia. The crystal-clear water and the vibrant reefs make this place something truly special. Apu Bay was no different. Luck was on our side as we were able to secure a table at the Ficas restaurant, a family run business that created a special seating for us with our toddlers. The traditional imu feast and Tahitian hula and fire dancing were breathtaking and that it was a family affair made it feel even more exquisite. On the dinghy back to our Sunsail boat we all looked at each other and knew that this was going to be a very special week.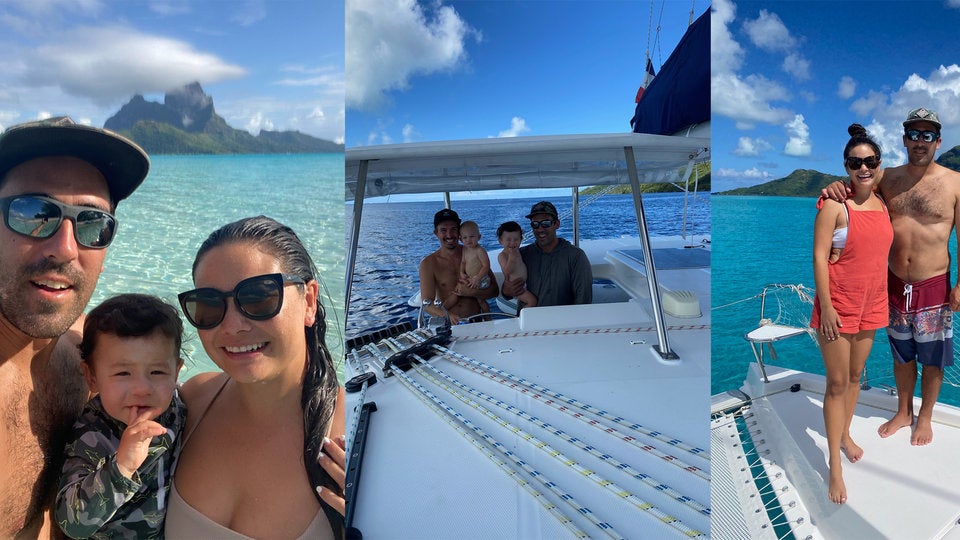 Day 2: We were woken in the early morning just as the sun was rising by the cries of our toddlers. Although there is no sleeping in on a vacation with kids, it allowed us to watch the breath-taking sunrises every morning while we sipped our coffee and made breakfast for the gang. We enjoyed our breakfast with a gorgeous view of Apu Bay as a small squall passed through and gave us a rainbow. Then it anchored up as we sailed around Tahaa. We sailed by all the small islands bordering Tahaa, a sailor's paradise. We sailed for about two hours and made it to The Coral Gardens of Tahaa. This was one of our favorite spots in the entire trip. There is a strong current coming from the ocean through the coral garden which allows you to drift through the area observing the abundance of fish and corals at ease. When you're finished you can walk up the beach and do it again, just like a chair lift! We enjoyed a beautiful sunset with Bora Bora in the distance, welcoming us on our journey the next day.  
Day 3: The passage from Tahaa to Bora Bora was one of the two long journeys of the trip, and the our first one in the open ocean. We did our best to depart just as the kids were going to sleep, hoping to maximize our time underway while they were napping. Jack must be a sailor at heart because he took his longest nap ever and seemed to enjoy the movement of the boat with no issues. We covered the 18 miles in 4 hours and were enjoying the breathtaking views of Bora Bora before we knew it. Bora Bora recently outlawed anchoring in an effort to protect their seabed so mooring balls are required. Fortunately, there are multiple mooring fields which made finding a spot with a great view quite easy.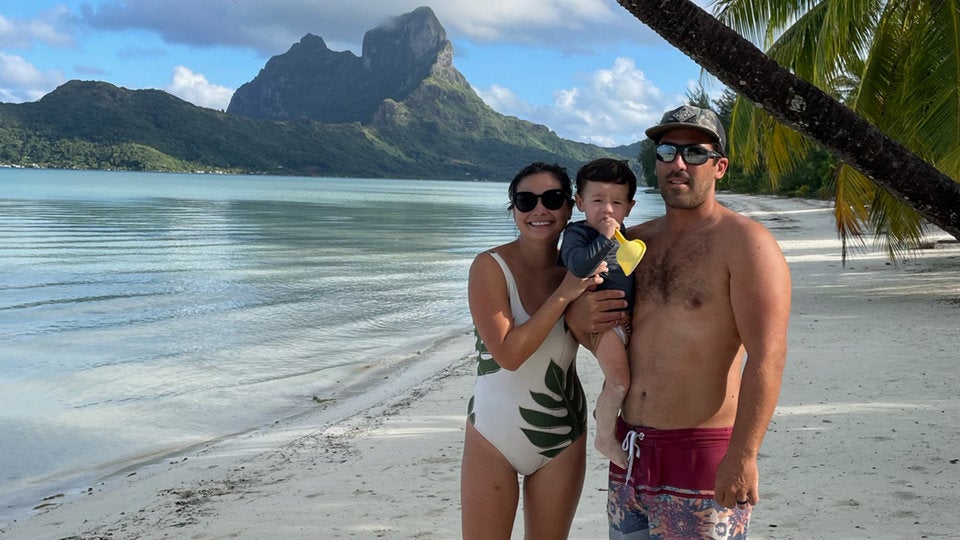 Day 4: Transiting around Bora Bora was breathtaking, to say the least. All of the photos and movies certainly don't do it justice. We traveled from the western side of the island around the northern tip to the anchorage on the southeastern corner, passing all of the overwater bungalow resorts along the way. Many parts of this route are very narrow with shallow coral on both sides which keeps you on your toes! While the resorts are very impressive, I remember all of us talking about how being on the Sunsail catamaran was our preferred method for exploring this magical place. After getting settled on the mooring, we explored the southeastern corner of the outer reef islands and were greeted by a local Tahitian woman who presented us with a platter of fresh fruit on a woven coconut leaf. This woman did not speak any English and we had never met her before. She simply wanted to share the fresh fruit she had with us. We were blown away by her generosity and compassion. She is just one example of the many kind, friendly, and welcoming local Tahitian population that made our trip extra special.
Day 5: This was the only day we did not move the boat, and it was spectacular. We enjoyed every minute of being in Bora Bora, with frequent trips to stunning white sand beaches that were untouched other than by a few locals, as well as exploring the houseboat that had recently sunk a few weeks before we arrived in the mooring field. The kids loved being able to run around on the sand and build sand castles. These were precious family moments I will never forget.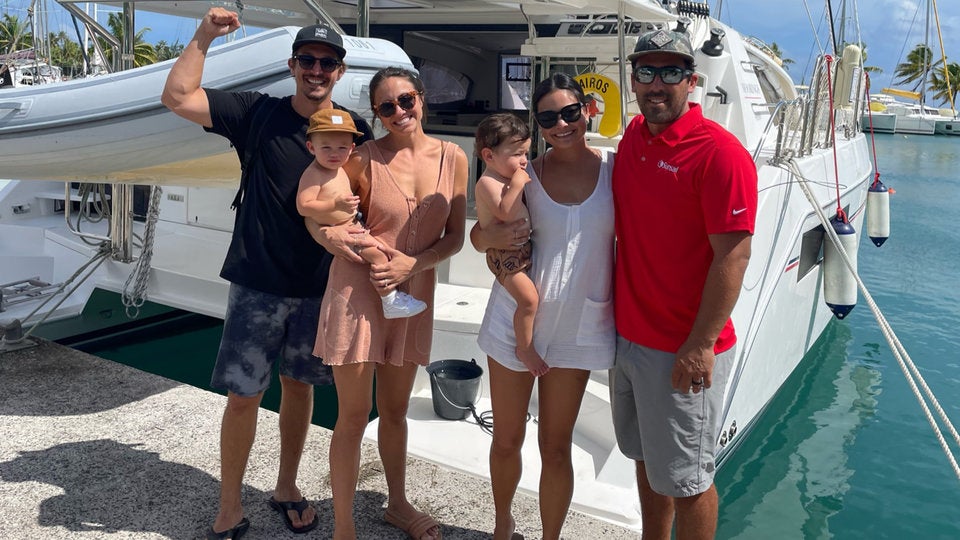 Day 6: The SE trade winds had filled in overnight and we were looking at a 20-mile upwind fetch back to Raiatea. We again did our best to time our departure with the kid's morning naps. However, the sea state had increased considerably relative to our downwind trip in light air a few days prior, and the upwind angle certainly wasn't helping either. To my surprise, the kids were completely at ease, walking around the inside of the boat as if we were at anchor. They seemed to understand the importance of keeping one hand for the boat at all times as if it was naturally engrained into them. Proud dad moment! We arrived safely into Raiatea and anchored near the Fish and Blue restaurant, which had an amazing vibe and was a wonderful end to the trip. Watching the sunset over Bora Bora with a passion fruit cocktail with the kids playing in the sand was just perfect.
Day 7: Fortunately, our anchorage was just a few miles from the Sunsail/Moorings base, which made our return journey quick and easy. We were again greeted by Sophie and her team who went out of their way to help us get back on the dock and through the checkout process smoothly. The logistics could not have been easier with a taxi van, which was able to fit all six of us and our luggage, arriving literally to the back of the boat and transporting us to the airport which was only five minutes away. As the plane took off of Raiatea, looking down on the Sunsail/Moorings base and identifying our boat, and then looking out over Tahaa and Bora Bora where we had just explored, we all looked at each other and without saying anything, all had the same feeling: this was the best trip of our lives, and we would certainly be back one day!