Find everything you need to prepare for a charter in Greece. From important base information to required documents for international travel, you can use this information as your guide before and during your charter. Don't forget to pack a copy to take with you.
Plan
Before you go
Address
Gouvia Marina
49100 Tzavros
Corfu, Greece
+30 26610 99132
Emergency Contact Numbers:
0030-6947724584
0030-6943120362
Based on the East coast of Corfu, around 5 miles north of Corfu Town and roughly 20 minutes away from Corfu Airport.
As you prepare for departure, please reference the Corfu Cruising Guide to learn more about chartering in this destination.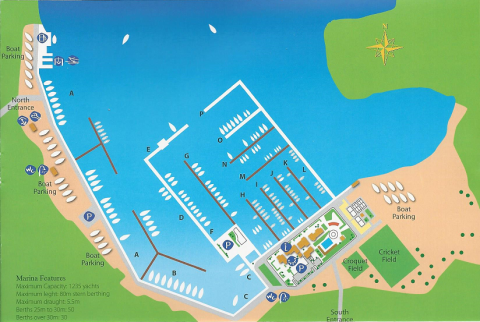 Base hours
The base is open Monday through Friday from 9 a.m. to 5 p.m. and Saturday 9 a.m to 7 p.m and Sunday from 9 a.m. to 2 p.m.  
Season: The base is open from early April to early November. 
Time zone
+2 hours UTC/GMT (+3 hours GMT from the last Sunday in March to the last Sunday in October.
Tourist information center
N/A
Language
The official language of Greece is Greek.
Cost of living in Greece
The cost of living in Greece is approximately 10 percent less than the UK. Prices in Greece usually include service charges, although it is normal to leave loose change as well.
What to bring
Customs + immigration
Entry, exit, and visa requirements depend on the locations you are departing from and traveling to. You are responsible for having the correct documents so make sure to check with the consulate of the countries you plan to visit before you travel. Visit travel.state.gov for the latest information.
Sailing licenses

Click here to view the sailing requirements in Greece. 
The Greek Maritime Authorities have recently changed their sailing license requirements for 2022 and 2023 and have confirmed that they will no longer accept the RYA Day Skipper qualification for Yacht Chartering in Greek waters.  
All RYA Day Skipper Qualification holders are able to convert their current qualification to the ICC (International Certificate of Competence) qualification. This can be done online through the RYA website or via a paper form which can be downloaded from the website and printed. If you are a RYA member, an ICC can be issued free of charge, please visit the website and complete the application form.  
The conversion period may take several weeks, therefore please plan ahead to ensure you receive the ICC certificate in time. The skipper must bring a physical copy of their sailing qualification - a photocopy or picture on a phone will not be accepted by the marine authorities. 
Why do I need a ICC with Sunsail when other companies don't ask for it?
By Greek Law, Port Police officials require a 'Solemn Declaration' to be signed and presented on request alongside the official boat papers, stating that you hold the relevant qualifications to sail in their waters. With 40 years' at the forefront of the sailing holidays industry, we pride ourselves on being the best. Our valued reputation is second to none and we conduct all operations with great diligence, and according to the current laws and regulations of each destination. This is why we ensure that you have the necessary qualifications and paperwork to fully enjoy every sailing destination, and that you are made aware of any clauses or terms and conditions that may affect your holiday.
To charter a yacht in Greece, there must be at least one certified skipper and one experienced crew member, both over 18 years old. The skipper should be competent at handling a yacht in close quarters, anchoring and mooring in varying conditions and be able to use navigation and pilotage skills to plan the day's sailing and know your position at any time.  The Skipper should be accompanied by at least one crew member (First Mate) of "Competent Crew" level (ASA 103 or RYA Competent Crew Course) or a similar/equivalent certification from any recognized sailing association.*  As a yacht skipper, you are required to have a sailing license or a certificate from a recognized sailing association AND/OR an ICC or IPC as detailed below:

Skipper is REQUIRED to have one (1) of the following: 
• US Sailing "Bareboat Cruising Course" or above 
• ASA "104 Bareboat Cruising Course" or above
• ICC (International Certificate of Competence) or above
• Or a similar/equivalent certification from any recognized sailing association
AND/OR
Skipper is REQUIRED to have one (1) of the following: 
• ICC (International Certificate of Competence), International – Prerequisites: RYA "Day Skipper Course" or similar/equivalent certification from any recognized sailing association or complete the ICC Assessment form to prove competence from previous experience. 
• IPC (International Proficiency Certificate), America – Prerequisites: ASA 104 or US Sailing "Bareboat Cruising Course"
It is imperative that you bring these sailing certificates or sailing qualifications with you.You will not be able to sail without these papers, and failure to supply information in advance could delay your departure from the base. The sailing experience you provide on your booking confirmation is required as proof of sailing experience for the Greek Port Authorities. Please bring any sailing certificates or sailing qualifications with you. If you do not have a recognized certificate, you should obtain one before your departure. 

*If the First Mate does NOT have a sailing license, they must fill out a Sunsail sailing cv to confirm that they have the necessary skills to sail in Greece aboard a Sunsail vessel.  They must also fill out a Declaration of Honor to provide a legal declaration to the Greek Port Authorities that said crew member is competent to crew aboard a chartered yacht. 
Luggage
Luggage allowance is 44lb per person. Only one item of hand luggage per person is allowed and this must not weigh more than 11lb. For storage aboard we recommend travelling light and using folding luggage.
Lost or damaged luggage whilst flying is the responsibility of the airline and is not covered by your travel insurance. Thomson Airways carries no liability for loss or damage to valuable or fragile items packed in hold baggage however caused. You must not include in checked baggage, money, jewelry, precious metals, computers, personal electronic devices, negotiable papers, securities or other valuables, business documents, passports and other identification documents or samples.
Alcohol may be taken on flights but only in checked luggage (well secured from breakages) not as hand luggage due to airport security restrictions.
Incidents
If an incident occurs, immediately report it to airport officials and ensure Property Irregularity Reports (PIR) are completed. Claims will not be considered once you have left the airport.
Passport and visas
Please ensure your passport is valid for the period of travel and for six months after you return. Your passport name must match the name on the flight ticket otherwise you may not be able to travel and insurance may be invalid.
It is the responsibility of each individual to ensure relevant visas are obtained where necessary. We cannot be held responsible for refusal of entry or travel due to lack of visas. If you are in any doubt please contact your embassy for full details.
Luggage + packing list
We would highly recommend packing prescription medicine and essential clothing (swimsuit, t-shirt and shorts) in your hand luggage as occasionally your luggage may arrive at the base after you do.
Please pack with soft-sided bags, as these are easier to store on your yacht.
Drones
The use of flying drones may be restricted in some areas. For current drone regulations in this destination, please visit drone laws in Greece.
Currency
The currency in Greece is euros. 
Money changing facilities are present in the majority of towns, although, they are not that readily available off the beaten track. Money changing should be done either with cash or by travelers' checks, euro checks and credit cards are rarely accepted, with most local tavernas accepting only cash.
Please note: base is unable to accept cash or personal checks, and cannot give cash back on credit or debit (Switch/Delta) cards.
Gratuity
Tipping is standard and expected in all restaurants and bars and for other services undertaken during your vacation. The rule of thumb is generally 10-15% of the amount charged. Some establishments automatically add this onto the bill.
Tip according to quality of service.
Security deposit
A security deposit must be paid at the base by Visa or Master Card and is refundable at the end of your charter subject to there being no loss or damage. To significantly decrease your security deposit, purchase our Yacht Damage Waiver insurance ahead of time.
What's on board
Coolers
Coolers are available at the base on a first come first served basis at no additional charge. Please sign these out and return them clean and undamaged otherwise you will be charged for replacement. Only one per boat.
Mobile phones & Wi-Fi
GSM 900 and 1800 networks exist. Coverage is good around the major towns on the mainland and on many islands. Main operators include Cosmote, Q-Telecom. Stet Hellas, and Vodafone. Check with your service provider for information about cell coverage in this region. Wi-Fi Internet offered for a small fee when available. You may need to activate international roaming on your contract. 
Music + iPods
All boats are fitted with a radio and CD player. If you wish to listen to your iPod whilst sailing you will need to bring along an iTrip or FM radio transmitter.
Electricity
The standard voltage on all yachts is 12 volts. Electricity in Greece is 220 volts and uses the standard European 2-pin plug. In order to use electronic equipment that is 220 volts you will need an inverter suitable for use in a cigarette lighter.
Go
How to get there
Airport
Corfu Airport is located just under two miles to the south of Corfu Town, in the area of Kanoni, opposite the islet of Pontikonissi.
Airport parking
Save up to 30 percent when you book your airport parking through us. Please call us for more details.
Corfu Airport facilities:
Money and communication:  there's a bank, an ATM, a post office and a bureau de change in the terminal building.
Eating and drinking: one restaurant and four buffet style snack bars are located next to the check-in area.
Shopping: there's a small duty free shop. 
Flights
To ensure seamless travel to and from your destination or find out more about our tailor-made flight-inclusive or exclusive packages call us now on  855 991 4001*.
Transfers

Transfers from Corfu Airport to the base can be arranged if requested. Transfer time is approximately 10-15 minutes.
Car rental
Car parking is available at Gouvia Marina.
Boarding time + checking out
Boarding time
Charters start at 6:00 p.m.
You will not be able to leave the dock until the next day.
Late arrivals
If arriving after hours, a message will be left on the front door indicating the location of your boat. 
Check out time
Check out time is at 9 a.m.
A debriefing and final walkthrough will be done upon return. All yachts are to be returned by 1700hrs the night before disembarkation so please allow enough time to complete this.
Sail
About the marina
Marina facilities
Gouvia Marina facilities include:
Fuel station
Electricity
Water
Supermarket
Chandlery
Restaurants
Cafes and bars
Toilets and showers
Laundry and dryers
Postal services
Wireless Internet access
Dock facilities
Sailing grounds
Experience level
Level 1/2
Experience levels are based on sailing conditions and the length of passages within your chosen sailing area.
Get more information on Corfu sailing conditions.
Download Sunsail's Corfu Cruising Guide here.
Sailing area
This information is covered in the chart briefing. Experience levels are based on sailing conditions and the length of passages within your chosen sailing area.  Follow the link for more information on the sailing conditions. 
Click here to view the sailing requirements in Greece.
Sailing area restrictions
It is strictly forbidden to sail alone, we require two persons minimum on board.
Night sailing
You must be moored at least one hour before sunset. Night Sailing is not allowed without permission from the base manager. The decision to allow night sailing is based on your skill level and can be requested in advance.
You will need to fill out the Sailing resume for the base to review but we cannot guarantee approval.
Charts + pilot books
All the charts and pilot books you will need for the sailing area are inside your sailing bag, issued at your check-in.
Sailing permits + taxes
In Greece it's essential that we have all of the following details in advance: full name, date of birth, place of birth, nationality and passport number or ID card number for every member of your crew so that your boat papers can be prepared. You won't be able to sail without these papers, and failure to supply information in advance could delay your departure from the base.
It's also essential that you bring any RYA certificates or other sailing qualifications with you.
Moorings fees + taxes
Greece does levy mooring fees in some harbors, and these are not included in the price of the charter. The charges are fairly minimal and are usually around GBP 5-15 per night. Marina prices are considerably higher, between GBP 25-45 per night depending on the size of your yacht.
If you stop free of charge at a private jetty it is expected that you will eat at that taverna. 
Shower facilities are available at most marinas  for a small charge.
Health + safety
Travel advice
Corfu is generally risk-free of contagious disease. Current travel, health, and safety information can be obtained by visiting travel.state.gov
Travel insurance
Sunsail offers comprehensive travel insurance for your complete peace of mind. If you have your own travel insurance, please make sure that it covers all of the destinations and activities of your Sunsail vacation. Visit here for more details.
*Please note country entry/exit and vaccination/immunisation requirements can and do change. Sunsail is not accountable for these requirement changes and we advise visiting the destination's authority website to receive the latest updates.
Illness or injury
If you get ill and visit the doctor or hospital during your trip, contact a member of Sunsail staff as soon as possible on either a lead boat or at our base.
If you need to make a claim for curtailment due to illness, ask the base manager for assistance and contact your insurer's emergency medical service immediately.
Your insurance company will assist with travel arrangements, advice and payment of bills.
Obtain receipts for any medication, treatment or transport you have to pay for and submit with your claim.
Swim Safe 
Swimming is often a fun and important part of a vacation. However local rules, flag systems, currents and where swimming may be permitted, can be different and vary from country to country. Snorkel vests, Life Jackets and Diver Down flags are all available on board. 
Children:
Talk to children about water safety at the start of a vacation, making them aware of the potential dangers.
Accidents can happen at any time on vacation, but often they happen on the first and last day, so keep watch and do not get distracted when your children are playing by, or in the water.
Children in or near water should always be supervised by an adult and never left unattended. 
Get in the water with them, it is easier to keep an eye on them as well as good fun. Floatation devices are highly recommended for children but are not a substitute for supervision.
Be aware of your surroundings
Check warning flags and signage on the beach and only swim where it is permitted. 
Beware of dangerous currents, these can be very powerful. Not all beaches have lifeguards and/or warning flags.
Beware of underwater hazards, such as reefs, rocks, sudden changes in depth and marine life.
Never swim where a sign says not to e.g. in zoned areas for jet boats or jet skis.
Never swim at night or after drinking alcohol.
Look out for others
Never swim alone, 'buddy up' with others in your party and use the snorkel vests provided.
Know how and where to get help. If you see someone in difficulty; raise the alarm, preferably the emergency services. Ensure you know the correct number for the country you are in.
Do not overestimate your ability
Consider swimming lessons before you go if you think it would be useful to learn proper swimming technique.
Even if you regularly swim in a pool, remember that open water swimming can be very different.
Safety
All yachts are equipped with adult life jackets, harnesses, snorkel vests & diver down flags. You can see all this equipment demonstrated in our online safety briefing, and we strongly recommend that you make use this equipment during your vacation. This safety equipment will be displayed in the saloon of your boat on boarding - If you have any questions feel free to ask our base staff during your briefing. 
We have a very limited supply of children's life jackets on base so highly recommend that if you are travelling with children, you bring their own. This ensures that children have correctly fitting jackets that are comfortable for them.  
Children should not be allowed in the dinghy without a life jacket or buoyancy aid and should wear a buoyancy aid or harness whilst on deck. 
Children under the age of 16 should not operate an outboard engine and should be supervised at all times when in the dinghy. 
Skippered charter information
The skipper's time is booked from 12pm-12pm in 24-hour periods. If you have reserved a skipper for the first day of your charter and have a 6pm start, he or she will use this time to ensure they are happy with all aspects of the yacht and will be at the base to meet you upon your arrival. If you've reserved a skipper for a later date on your charter they will start at 12pm on that day.
The skipper is responsible for the safety of the yacht at all times. They are not permitted to dive with you, nor leave the vessel overnight. He or she must conduct a safety brief with you before leaving the dock regardless of the duration of the contract with you.
For "check out charters" (anything less than the full duration of the charter) the check out skipper's time is booked from 6pm-6pm to allow for a meet and greet in the evening and go over basic systems, then a full day with you the next day.
This skipper is required to give you a thorough briefing on all aspects of the yacht and dinghy in addition to assisting you with planning an itinerary for the trip and advising you how to contact the base, the return to base procedures and the emergency assistance procedures. We suggest that you attend the scheduled chart brief that will be supplemented by the skipper during his or her time with you on the yacht. We also suggest that you make it clear exactly what you want to cover: anchoring, docking, etc.
The skipper fee does not include food or beverages for the skipper and this is your responsibility. We suggest that you discuss this on the first day with your skipper and establish whether you'll provide cash for meals, whether you've included him or her in your provisioning or whether you'll accommodate him or her as part of the group for meals ashore.
The skipper must have his or her own cabin. We prefer not to put the skipper in the bow due to the shared head and size of the cabin. If you expect your skipper to stay in the bow, please let us know well in advance so that we can choose the appropriate (small) skipper.
For one-day check out skippers, it's your responsibility to get the skipper back to the base. If you prefer not to come back to the base you must pay all expenses (ferry, taxi, etc.) to get him or her back to the base.
The average tip for a skipper is 15-20 percent of the skipper's fee. This is, of course, at your discretion.
Eat
Provisioning
Sunsail Provisioning
This destination does not offer online provisioning.
Dining
Restaurants
There is a good choice of tavernas and restaurants throughout our cruising areas. Our local staff will advise you of their whereabouts.
Shop
Around the base
Accommodations
Lots of hotels.
Banks
ATM machines are available in Gouvia and Corfu Town. Banking hours are Mon-Thurs from 8am-2.30pm, and Friday 8am-2pm. Banks on the larger islands tend to stay open in the afternoon and some during the evening to offer currency exchange facilities during the tourist season.
There are no limits on the amount you can take in or out of the country, but the exchange rate is often more favorable in Greece. Money changing facilities are present in the majority of towns, although, they are not that readily available off the beaten track. Money changing should be done either with cash or by travelers' checks.
Shopping
Shops in Greece tend to be open from 9am-1pm and in the evening from 5pm-8pm.
Special purchases include lace, jewelry, metalwork, pottery, garments and knitwear, flokati rugs, leather goods, local wines and spirits. Athens is the center for luxury and designer goods and local handicrafts.
Regional specialties include silver from Ioannina, ceramics from Sifnos and Skopelos, embroidery and lace from Crete, the Ionian Islands, Rhodes and Skiros, alabaster from Crete and flokati rugs from the Epirus region.
Visitors should be aware that many 'antiques' sold to tourists are fake; it is illegal to export any item of real antiquity without a special permit from the Export Department of the Ministry of Culture.
Play
Things to do
Tours
This area is astonishingly beautiful, notably inland where hill villages nestle in lush pine forests and olive and fruit groves.  For keen hikers the hilly interior of Corfu is perfect.
Car and jeep hire
Car hire is available throughout Greece. All international rental companies available.
Provisioning
Provisioning is available in this location
Find out more about our provisioning options.
Water toys + sports
For your convenience, you can add water toys to your charter prior to arrival at the base. They will be waiting on your boat upon arrival. You are able to rent these at the base but please keep in mind that we have limited availability. For more information, please view our water sports options here.
Scuba diving
Yes but limited. Please contact your vacation planner for more information. No scuba equipment offered at the base.
Snorkeling
Sunsail provides snorkeling fins (no masks and snorkels, flippers only) for all charters for your pleasure. Children's sizes are very limited; you may wish to pack your own snorkeling gear.
Fishing
Sea fishing is possible from the shores, from boats and even underwater and is allowed almost everywhere without a permit.
Standup paddleboards
The newest way to experience the water. Experience gliding on the water's surface; this is as close as it gets to 'walking on water' and is suitable for all ages.
Kayaks
Explore our world of water by kayak and reach places that you never even knew existed. Check our website for more details.
For more information on what's included on your yacht, please view the full list here.