Overview
Take the boardroom to the ocean.
Welcome to the world's most electrifying team meetings. Sunsail and our partners have delivered team building events and corporate yacht charters for more than 30 years. Our passion for sailing, our partners' experience and your knowledge of your team will ensure that your chosen itinerary creates real value for your business.
Our dedicated corporate sailing team works with you to ensure that your event achieves your set objectives. Sunsail corporate sailing events are a great way to move your business forward, whether by treating your clients, rewarding your staff or providing an opportunity to foster team unity. 
Your personal Sunsail event coordinator will work with you to design a bespoke corporate events package. We'll organize every detail on your behalf, from travel, accommodation and catering to entertainment and branding. We'll tailor your experience to your exact needs, aspirations, and budget, whether you're land-lubbers or seasoned sailors. Leave the office behind and take to the seas for an unforgettable corporate event. We think it beats a PowerPoint presentation, anyway.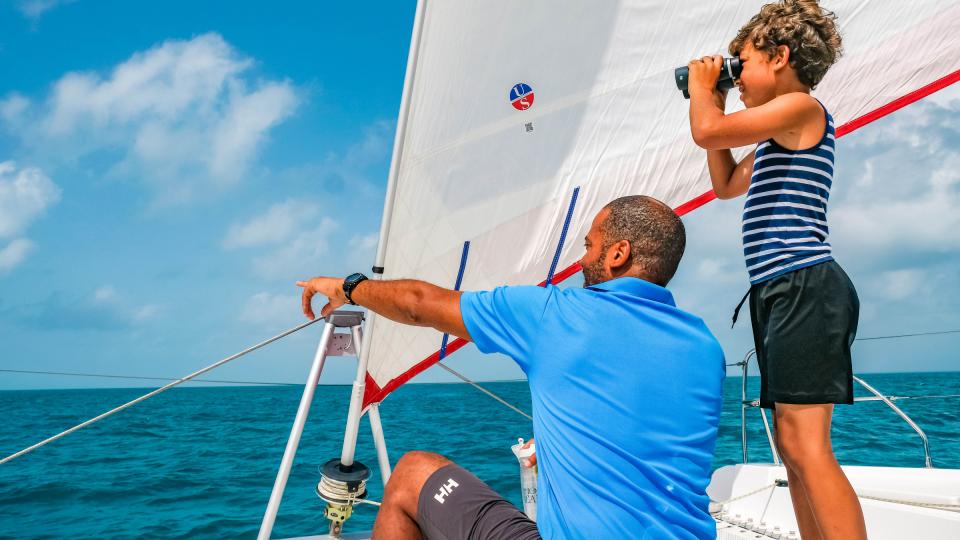 Why sailing?
Exhilarating, energizing and extremely memorable.
You can't beat a day on the water for getting a team working together, or for making an impression. At Sunsail, we have over 30 years' experience in designing unforgettable experiences.
Our fleet of identically-matched yachts can cater for groups of 4 – 400, all expertly skippered by skilled professionals or available for a bareboat charter.
The fresh air, the thrill, speed, and sensation of slicing through the water—there's really nothing like it. More and more companies are opting for sailing for corporate retreats and team building events. Why?
Corporate sailing events inspire bonding and teamwork, both of which are essential to enable your business to operate efficiently. Communication plays a key role in sailing, with every team member playing a key role on deck. These can include:
Improving communication
Enhancing emotional intelligence
Crisis management and conflict resolution
Problem-solving
Understanding and overcoming barriers to change
Building a new team
Improving productivity
Encouraging teamwork
Sailing is all about solving problems
"How do we move from point A to point B using only the power of the wind?"
Sailing requires communication
From the skipper to the sail trimmers, communication is essential if you want to get anywhere on a sailboat. 
Sailing fosters trust
You can't sail alone. A skipper must trust their team, and the team must trust each other to work together and get the yacht going. 
Sailing is relatable
There's a reason why business shares so much terminology with sailing (navigate, plan, chart, etc.) Sailing gives your team valuable skills they can directly apply when they get back to the office.
Step aboard and see what sailing with Sunsail can do for you and your team. Because your team thrives on new challenges. Because we're passionate sailors ourselves.
Because everyone deserves a little time on the water. 
Programs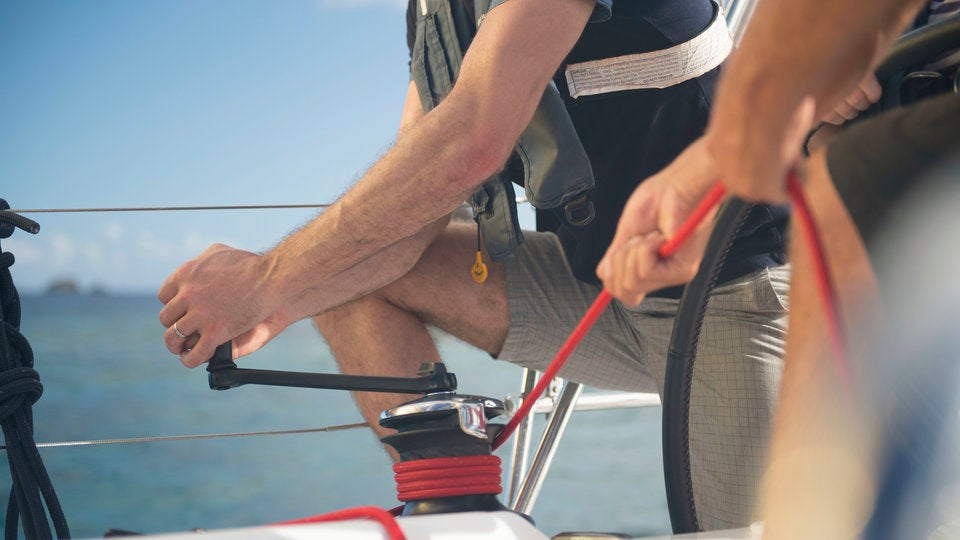 Good times are better shared
Gather your friends and climb aboard a beautiful yacht bound for good times. Learn to sail together or explore the oceans with good friends, discovering new destinations and sharing experiences along the way. From the ever-popular coastal resorts of the Mediterranean to the remote paradise islands of the Indian Ocean, South Pacific and the Caribbean, we have a range of destinations to suit all tastes and budgets.
Join one of our 17 existing flotilla routes, or charter your own small fleet and create your very own mini flotilla vacation. Raft up for on-deck G&Ts at sunset, or club together for a large catamaran or monohull to sail the world's best cruising grounds. Our world-class fleet includes cats and monos with up to five cabins and the same amount of heads—perfect for even the largest parties.
Group bareboat charter vacations
Let your group's experienced sailors lead by example on a bareboat charter vacation. A string of islands, a ribbon of coastline, a beautiful yacht and your closest friends—on a bareboat charter vacation what you say goes.
Group flotilla vacations
Learn to sail or improve your skills in a fun, social atmosphere on a group flotilla vacation. Sail independently by day and socialize with the rest of the flotilla by night, or stay close to your group throughout. A flotilla vacation is an enjoyable, relaxed way to explore some of the world's top sailing destinations and make new friends along the way.
Group skippered yacht charter
With a skipper as your guide, your group will enjoy sights and experiences you won't find in any guidebook. Relax on the deck while your skipper takes the helm or be more hands-on and improve your sailing skills under their expert tuition. Take the pressure off with a skippered group sailing vacation.
Our group sales team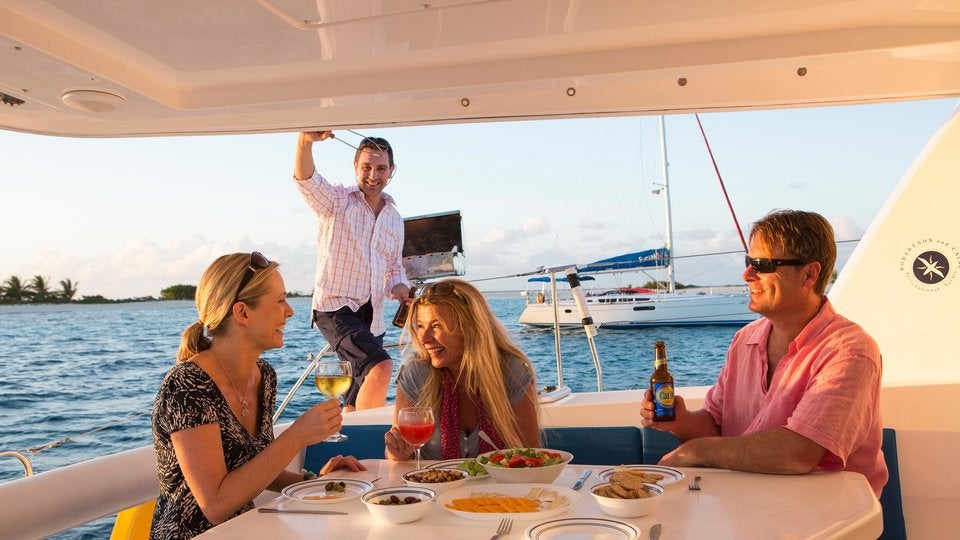 Tailor-made programs with added passion, thrills and adventure.
Here at Sunsail, we have an entire department dedicated to groups like yours. Sunsail's Group Sales Team creates tailored sailing trips for groups of any size.
Sunsail's Group Sales Team work tirelessly to create bespoke experiences for you and your team. Just tell us your goals and let us help you build a team development program unlike any you've experienced before.
What we can do for you:
Offers more than 60 years of corporate travel planning
Respond promptly, ensuring your time-sensitive deadlines are met
Provide a comprehensive customized proposal
Communicate directly with destination base staff, ensuring all of your requests and requirements are delivered
Build lasting relationships by exceeding your expectations
We can assist with:
Air travel
Transfers
Accommodations, both on board and o
Welcome/farewell receptions and dinners
Meeting and banquet facilities
Personalized itineraries, planned down to the minute
Team building activities
Special requirements
"Sunsail is an integral partner for our regatta events. They really understand what we need, and proactively work with us to make sure that everything is set. No other charter company integrates its operations so well—from concept to booking to the marina, hotels, event planning, provisions and everything else we need to be a success."-Tony Altimore, Managing Director Potomac Adventures Company
Find out more
For more information call our Group Sales Team at 800 734 9035.