Published: July 26, 2016 Terese Kerrigan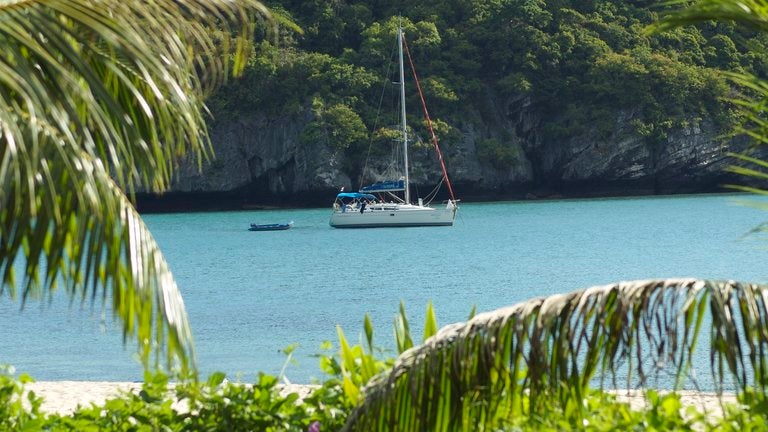 Andaman Islands essentials: All you need to know
Think of a 'sailing mecca', and Thailand is unlikely to spring to mind. Instead, you maybe think of it as a place where westerners go to escape the realities of grown-up life or the location of that Leonardo DiCaprio film from the noughties. You know the one.
The truth is that Thailand is one of sailing's most promising cruising grounds for visiting yachtsmen that want to be immersed in a rich cultural landscape.
The avid Mediterranean bareboat cruiser should seriously consider a charter around the Andaman islands. While there are obvious differences to the Med, Thailand provides rich rewards for the bold, and the number of similarities may just surprise you. Here's what you need to know when planning your Thailand charter.
Navigation
We designate Thailand as a level 2 sailing area. This places it on par with Corfu, any of our bases in Italy and Dubrovnik, so if you've sailed in any of these areas before you should be more than competent in Thailand. As a point of reference, we designate Palma and the Saronic Gulf as more advanced, level 3 destinations.
With over 100 islands in our cruising area to explore, Thailand offers a mix of long and short hops. So if you're interested in a little blue water sailing, it's there for the taking, but there are also plenty of line-of-sight passages, not unlike the Northern Ionian.
Climate
It's a common misconception that the humidity on a boat charter in Phuket will have your t-shirt clinging to your skin the whole time. That may be partly true during the wetter part of the year (May to October), but as the old saying goes: "if you can't stand the heat, charter December through April."
The air temperature will hold respectably between the mid-twenties and thirties all year round, meaning that if you don't mind a little bit of the wet stuff (and you are a sailor, after all!), then Thailand is a year-round option for you. April and May are the hottest, while locals like June, July, and August, when things are a little quiet and the odd heavy downpour is buffered by plenty of sunshine.
The back end of the rainy season is particularly wet, but the driest months of December, January and February see similar levels of rainfall to Tropea in May.
Wind
Dominated by two monsoons, the dry season is fed by prevailing north easterlies that generally produce between 5 and 16 knots, very much within sailing range, with the occasional need to engage the diesel.
The south westerlies synonymous with the humid rainy season offer a little more chutzpah, and can typically be expected to get up to around 27 knots on the windiest of days. This is not dissimilar to the famous Meltemi in the Saronic Gulf and Cyclades.
Mooring
There are mooring buoys in the sailing area, but they are poorly maintained, so your absolute best bet is to find a nice spot to drop anchor for the night. In many places, this will be free, though even in national park areas it will be around £10 per person, per night, so pretty comparable to the Med in high season. The extra space this gives you compared to Med-style stern to mooring makes catamarans in Phuket a worthy consideration.
Tides
Tidal heights in our Thai sailing area have an average range of around 2 meters; considerably more than in the Mediterranean, and worth some notable planning. Our base briefing will give you the full tide tables, to make sure you know when and where is safe to stick the hook in. Larger man-made marinas and berths attached to high-end resorts will be largely unaffected by the tides.
Accessibility
Admittedly, getting to Thailand is not as straightforward as going to Croatia, but with various flight routes, flexible charter start days and destinations suitable for sailing all year round, you can plan ahead and get the right flights at the best value. We can then match you up with the right boat for your chosen days, and can even book the flights for you.
Once you get to Thailand you'll be sure of a warm welcome. They don't call it 'the land of smiles' for nothing. You'll also find that English is widely spoken, and American visitors don't need a visa for stays under 30 days. For more information and verification, visit the US Thailand Travel Advisory page.
Sunsail's top tips for a Phuket boat charter
Sunsail's UK Sales Manager Laura Bowtell sailed out of our Ao Po marina base after base and fleet were fully refurbished last year, and she had this to say: "I love Phuket and the Andaman sailing area. The hotels around the coast are so luxurious, and the wildlife is so diverse. We went on an excursion to an elephant sanctuary and met these incredible, sociable and intelligent animals in their natural habitat. Washing them was a real highlight. The food was amazing, especially the Pad Thai, as you can probably guess! Anchoring the yacht and kayaking through caves at Ko Muk was another highlight for me."
We also recommend
Trekking the rainforest on Koh Lanta
Exploring the underwater sculpture park with a scuba dive at Ko Racha Yai
Attending at least one of the famous full moon beach parties if you can.
Find out more about sailing either a monohull or catamaran in Phuket.
In need of sailing lessons? We offer RYA-accredited courses in various locations.