Published: May 24, 2021 Captain Patrick Latcham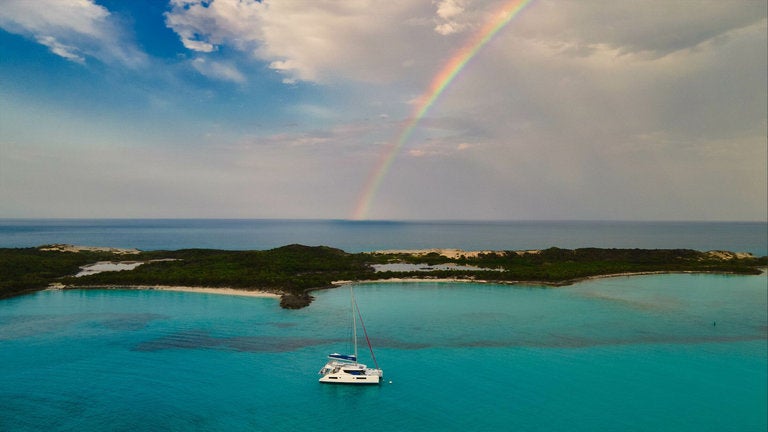 Ahoy! This is Captain Patrick Latcham, just returned from a weeklong bareboat sailing vacation in the Northern Exumas with Sunsail. We had an amazing experience and I wanted to share some first-hand information and advice from our recent travels.
Arrival
First and foremost, it is important to note we were traveling amid COVID. We sailed from April 17th-24th, 2021 and while I believe we are at the tail end of this pandemic, it certainly played a role in our planning. One of the reasons we chose the Bahamas was because of their more lenient travel restrictions. There is no mandatory quarantine and we just needed to provide proof of a negative test within 5 days before arrival and take a test on day 5 of the trip. For the latest info on any travel restrictions, visit the Bahama Travel Site.
As far as international travel goes at the moment, this entire process was a breeze. All of the locals were excited to see tourists and were very welcoming as well.
A few other tips while planning your bareboat sailing trip to the Exumas with Sunsail:
Due to COVID, no one is renting masks/snorkels. Sunsail provides flippers, but be sure to bring (or buy when onsite) a mask and snorkel.
The online chart briefing is amazing! Be sure to check it out. 
The drive from the airport is about 45 minutes. Cabs range from $65-$90 depending on the quality of the vehicle. Standard check-in is at 6 pm…and the nearest sail to the Northern Exuma chain is about 40NM away. With standard check-in, you spend your first night in the marina.

My crew and I opted for the early check-in, which needs to be booked in advance and has an additional fee but allows you to check-in at noon. This made it possible to leave the marina on our arrival day.
After the boat briefing and loading in our gear, we got ready to leave the marina. We decided to head to Rose Island. While Rose Island is not necessarily on the way to the Northern Exumas, it's only 6NM away from the marina and was a great way to start the trip. We anchored on the North Side of Rose Island, near Sandy Toes.
I have to admit that I was nervous about going on this trip. It had been two years since my last sail, my previous experience was mostly in the BVI, and I had not traveled in over a year. I think the biggest thing to note is just how shallow the water is in the Bahamas. Be sure to pay attention to the tides, the depth, your draft, and you will be just fine. Actually, you will be better than fine. You will be on cloud 9 and sailing in one of the most picturesque destinations in the world.
Bareboat Sailing the Exumas, Day 1: Rose Island to Highborne Cay
Waking up on a boat, surrounded by turquoise, green, and blue water, in a calm anchorage is just the best.
We pulled up our anchor around 7 am and set off for Highborne Cay. One of the benefits of leaving for Highborne from Rose Island is that you can get a jump start on the day. If you stay overnight in the marina, you cannot leave till the marina gates open at 9 am.
On our way to Highborne, we stopped by Allen's Cay. Allen's Cay is well known for its iguanas, but it is also a breathtaking anchorage and a great stop for lunch. We heard that the iguanas love crackers and bread, but we wanted to use our scraps from lunch so we fed them some veggies (apples, spinach, etc.). It was very entertaining being so close to wildlife and seeing how the iguanas interact with each other. Remember, while these iguanas are accustomed to being fed, they are wild animals…and some are pretty large. Be careful while feeding them and keep a safe distance while observing.
After a nice stop at Allen's, we continued our sail south to Highborne Cay. We anchored on the southwest side of the island so that we were a quick dinghy ride to the marina and Xuma restaurant. Shortly after anchoring, we were greeted by a nurse shark and a stingray. It was already obvious that the waters in the Exumas are vibrant and full of life.
We called into Xuma restaurant over the radio to make a dinner reservation. Although the prices at Xuma restaurant were the most expensive we encountered throughout the trip, we highly recommend it as a must-see for anyone passing through while on charter.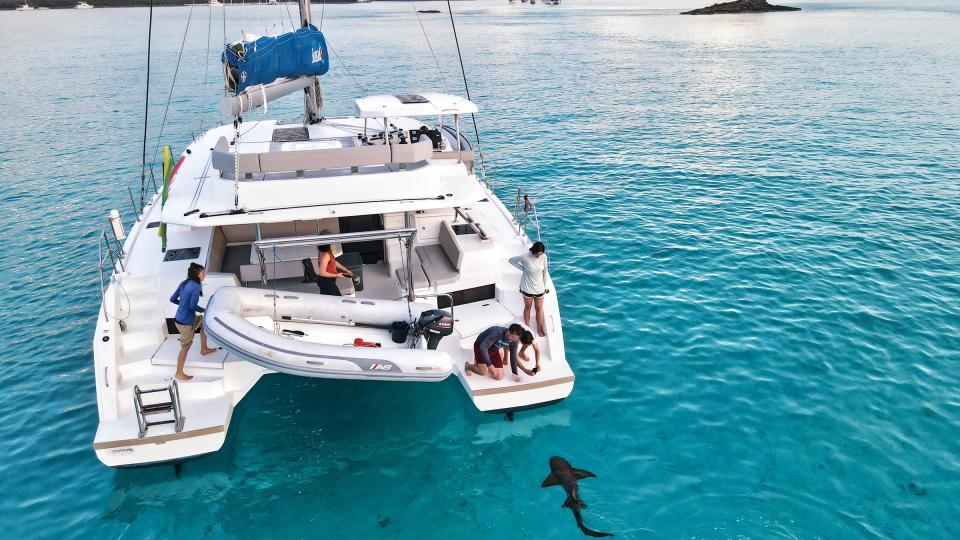 Day 2: Highborne Cay to Norman's Cay
After the 40NM sail from Rose Island to Highborne, we were excited for a leisurely, 6.9NM sail from Highborne to Norman's. As we approached our desired anchorage, on the SW side of the island just a bit north of MacDuff's, we noticed several coral heads amongst the sandy anchorage. We set anchor 40ft upwind from a coral reef, so once we were anchored we had some great snorkeling that was very close to the boat.
Norman's has a rich history and was the private island of Carlos Ledher, a kingpin in the Medellin Cartel! You can even explore a sunken C-46 drug plane. Some guide books recommended anchoring and then taking the dingy to the plane wreck for snorkeling. We had a strong wind coming from the SW and decided to take our vessel to the channel just south of Norman's. The plane wreck is right in the middle of this southern channel and anchoring locations are provided on most charts.
I am excited to share that a brand-new marina is very close to opening on Norman's Cay. I imagine it will be open by Dec. 2021 and is worth checking out. It's on the southernmost tip of Norman's, near the airport.
For dinner or lunch check out MacDuff's! I highly recommend the conch burger for lunch and the fish of the day for dinner. Reservations are required and you can reach them via radio on Ch. 16 or by calling 242.357.8846.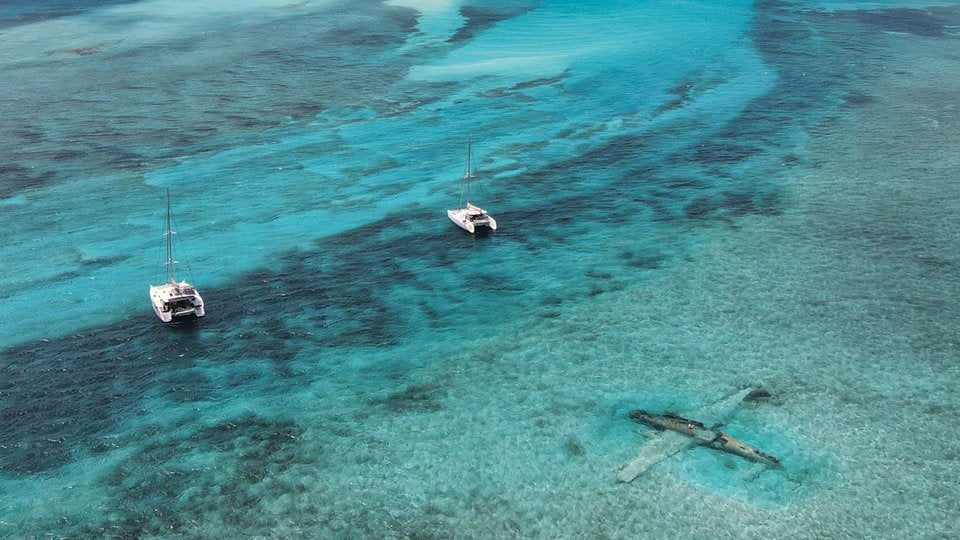 Day 3: Normans Cay to Staniel Cay
Norman's Cay to Staniel Cay is about 40NM. We had very light wind so we motored over, which took us about 4 hours. On our way to Staniel, we stopped at Big Majors Spot, which is right next to Staniel Cay and home to the famous swimming pigs. Pig Beach is a great spot to anchor and have lunch before heading ashore to see the piggies.
Having lunch before going ashore is also a great way to have some scraps to feed the pigs. Please note that this anchorage was by far the busiest area we saw during our charter. With sailboats, mega yachts, seaplanes, and jet skis, there are a lot of moving parts. Approach with caution and I recommend avoiding any snorkeling in this area. Be sure to go near the shade shelter to see the piglets. After some fun at Pig Beach, we headed to Staniel Cay. There are several anchoring options near the Staniel Cay Yacht Club. I highly recommend the anchorage just east of Thunderball Grotto. It is well protected and leads to a quick dingy ride to the grotto and other great snorkeling destinations. After a full day, we opted to get some carryout from the Staniel Cay Yacht Club. The fried chicken and pizza hit the spot!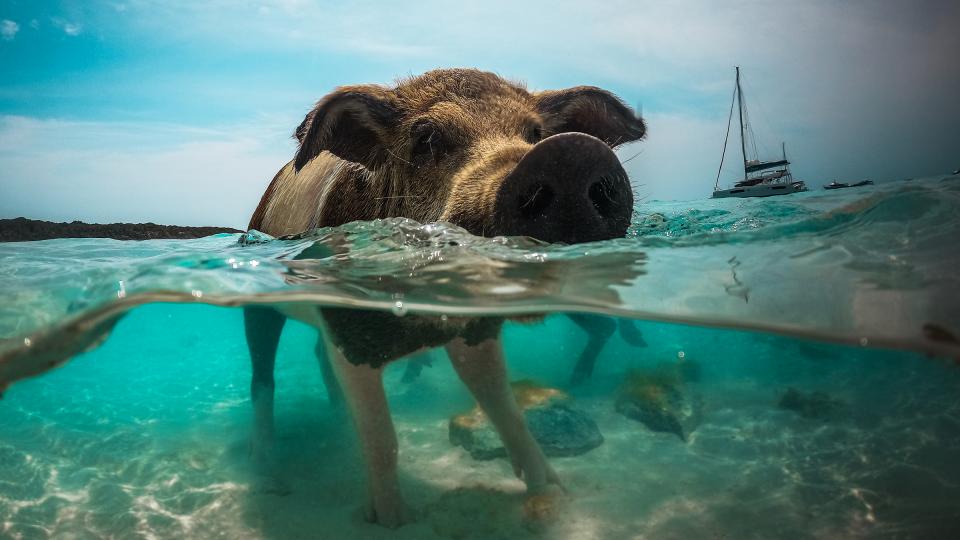 Day 4: Stayed at Staniel Cay
One of the great things about a charter...you can be flexible and come and go as you please. Originally, we planned on leaving Staniel on day 4, but we decided to stay with so much to explore. Staniel is also the place to take care of any errands. They have great grocery stores to reprovision, a laundry mat, and COVID testing facilities. To book your COVID test, either stop by the marina office or call in via CH 16. I recommend calling in the morning to ensure availability. If there is a line for a COVID test, stop by the marina for some rum punch. A member of our crew brought a flight of drinks over to the COVID testing area and needless to say, we quickly made some new friends. Also, if you are a US citizen, on a 7-day charter, this test will work as your reentry test back into the US.
One of the big perks of anchoring just east of the grotto is not only the proximity to the grotto, but the ability to see if anyone else was there. We noticed that no dinghies were moored or anchored right around 1 pm, so we headed over. This timing also worked out very well with the lighting. The sun was high, so we had the full grotto experience of seeing the sunbeam through the ceiling of the grotto. The grotto was an absolute highlight. Amazing snorkeling, underwater tunnels, and caves, sea turtles, and a plethora of fish. If you have anyone who is a weak swimmer in your party, be sure to go during low tide so you can easily enter. If you go during high tide, there is a mandatory (but very brief) underwater entrance. There are three entrances, one on the west (which is the most popular and easiest), on one the east, and a very narrow entrance to the North (which was fun to explore and swim through once inside).
To dine at the Staniel Cay Yacht Club, you must make a reservation before 4 pm and notify them of your order. So be sure to grab a menu at some point prior. The SCYC offers an amazing dinner and value. Our 3-course meal was around $45pp and was delicious. They also have a fun bar with pool tables that neighbors the dinner location.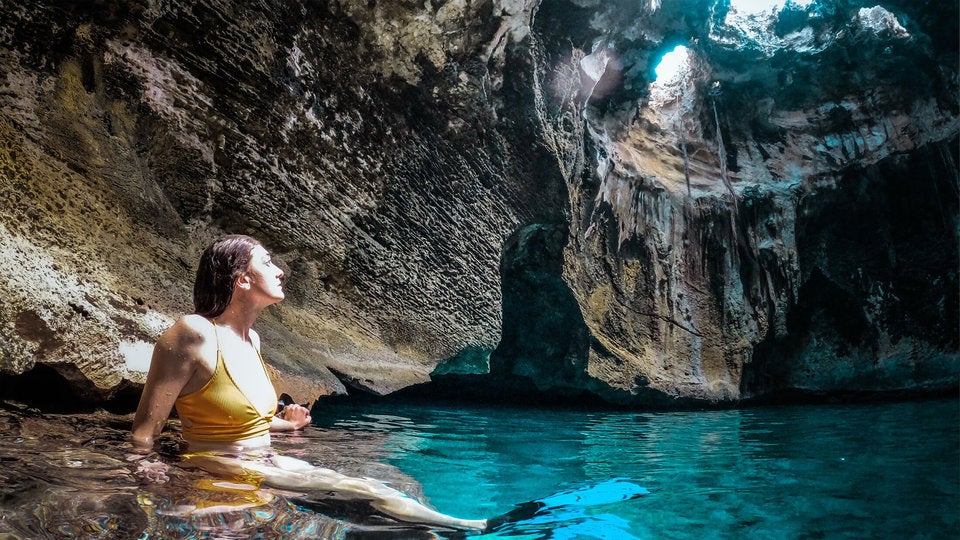 Day 5: Staniel Cay to Warderick Wells
Be sure to check the weather, top off your dingy gas and refill your water supply as this is the last time you will see any civilization or have cell service if you follow a similar itinerary. As you enter the Sea Park remember and be respectful that you are entering a protected area. There is absolutely no fishing or dumping which results in the richest underwater life I have ever seen. The morning of your sail, radio into the Sea Park Headquarters on Ch. 09 to reserve a mooring ball. The office is open from 9 am-12 pm and 1 pm-4 pm, Monday - Saturday, and from 9 am - 12 pm on Sunday. Also, Ch. 09 is where you can catch the 9am weather report. There are three main mooring ball locations at Warderick Wells. I recommend requesting the North Mooring Field as it is very well protected and scenic. It is also a very close dingy ride to the park headquarters. Once you are moored, be sure to stop by the Park HQ to check-in. They also have great maps at the Park HQ for snorkeling and hiking locations.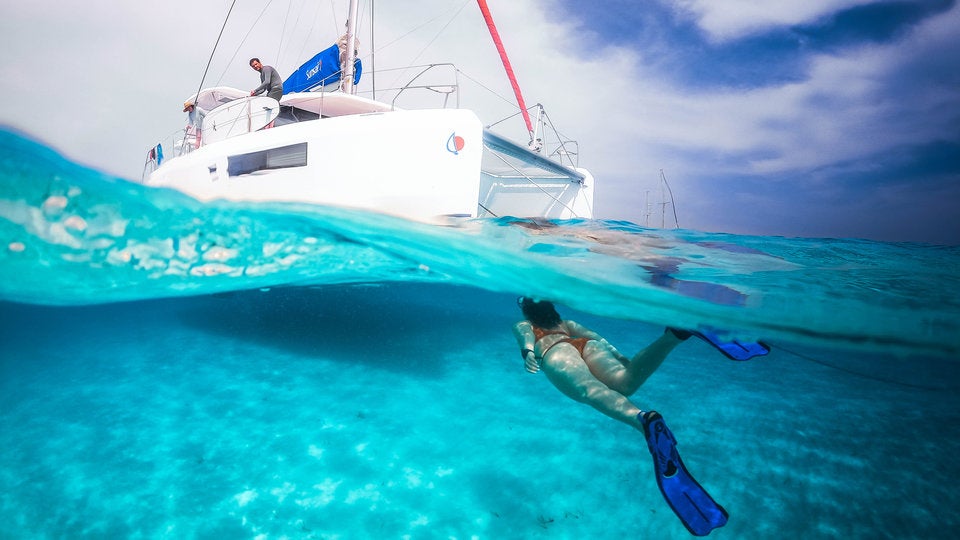 Day 6: Warderick Wells to Shroud Cay
We kicked off the morning with a hike to Boo-Boo hill. I recommend hiking in the morning or late afternoon to avoid the heat of the day. Boo-Boo hill is the highest point on Warderick Wells and is a great spot to enjoy panoramic views of the island. Be sure to bring an offering to leave at the monument at the top of Boo-Boo Hill. Many leave carved and painted pieces of driftwood.
Shroud Cay is also in the Sea Park and is home to some beautiful mangroves with great access from various creeks. We anchored just south of the westernmost tip, which provided a nice, protected anchorage. From there we dinghied around the tip and into the mouth of one of the creeks. If you are exploring by dingy, be sure to leave on a mid, rising tide to ensure you plenty of time to explore and return to the anchorage before low tide. Exploring this protected area was very unique and an experience that has me eager to return!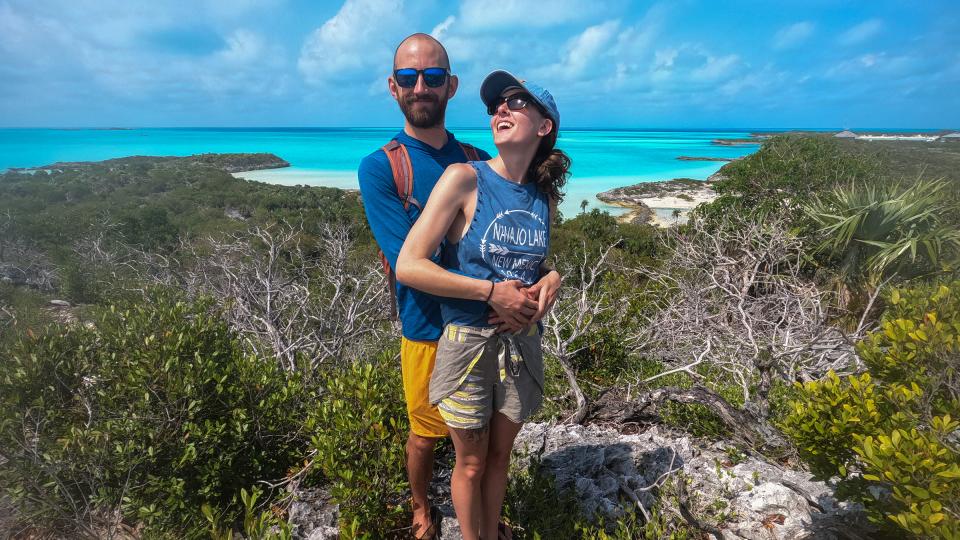 Day 7: Shroud Cay to Nassau
Time to head home, Shroud Cay to Palm Cay Marina requires a sunrise departure and good winds to ensure you arrive back in time to return your vessel. If you have an early flight to catch, be sure to head to Rose Island the day before to ensure you have plenty of time to start your journey home.