Designed by naval architect Philippe Briand. An expansive cockpit makes this three cabin yacht elegant to sail.
Additional information
Convertible Saloon: This yacht has a convertible saloon which is included as a double berth in the maximum capacity.
Skipper/Cook: A hired skipper can use the forepeak in all destinations excluding Bahamas where they will require an interior cabin. If your yacht does not have a forepeak, skippers will require an interior cabin.
Air Conditioning: This yacht does not have A/C
Forepeaks: No
Sunsail 44i - 3 cabin Specification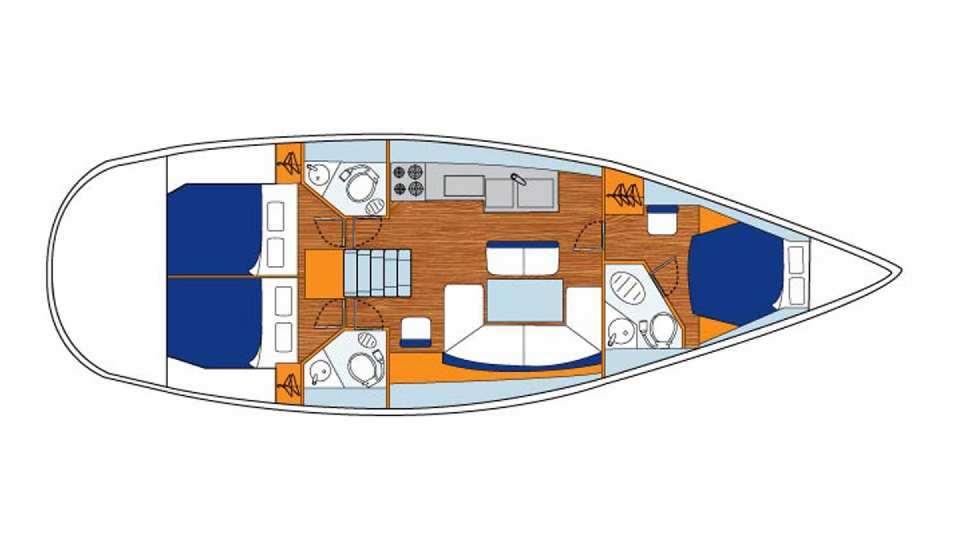 | Number of Berths | Max Number of Berths | Number of Heads | Number of Cabins | Number of Showers | Length |
| --- | --- | --- | --- | --- | --- |
| 6 | 8 | 3 | 3 | 2 | 45 ft |
More options available through our sister company, The Moorings
Age of Your Yacht
When you charter a Premier Plus Yacht you can be sure of a boat with fewer than 12 months service behind it. These brand new yachts offer the optimum in comfort and performance, with the highest standard in technology, equipment and amenities.
With a maximum of three years service under their belts, our Premier Yachts offer a high standard of comfort and performance alongside the latest technology and equipment.
Our Classic Yachts are usually no more than eight years old, meticulously maintained and well equipped to provide you with great value and an excellent sailing experience.
Exclusively crafted by Jeanneau
One of the world's leading yacht builders, Jeanneau's expertly crafted boats introduce you to a world of elegance and innovation on the water. From the first artisan-crafted runabout launch to today's precision-manufactured sail and powerboats, Jeanneau's boats are designed to impress. Responsible, agile and fast, the timeless beauty and impeccable performance of a Jeanneau is unforgettable.