Published: June 17, 2019 Jody Krebs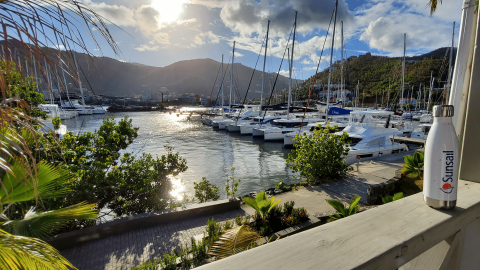 Nearly a year and a half after two devastating category 5 hurricanes ravaged the British Virgin Islands, life in the BVI continues to forge ahead in a monumental comeback.  
On September 6, 2017, the eye of Hurricane Irma passed over Virgin Gorda, Jost Van Dyke, and Tortola, home to our flagship charter base.  What Hurricane Irma may have left behind, Hurricane Maria followed 14 days later to claim in her share of destruction in the British Virgin Islands. 
With a resilience unmatched, our base team, facing their own significant personal losses, worked relentlessly to restore our Marina and charter facilities. Making record strides, the Sunsail base in Tortola re-opened just three short months after these storms.   
When Opportunity Knocks
Concurrent with the immediate urgency to restore and re-open our base, we took a deep look to identify any opportunities that would allow us to improve our yacht facilities and guest experience at the Marina.  
It is with great pride that we are pleased to share this base redevelopment update with you.  We welcome you to visit us and see for yourself how we continue to prevail in this incredible Caribbean Comeback.  
Yacht Maintenance Facility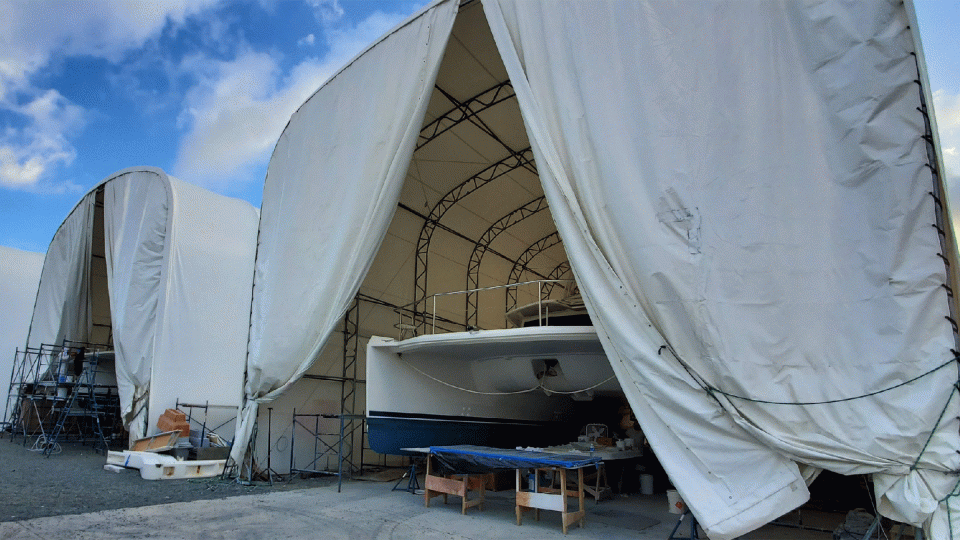 A permanent yachts repair facility has been developed adjacent to the Marina on the base grounds. This is one of the largest and most comprehensive boatyards in the British Virgin Islands and has been instrumental in allowing us to repair and restore over 200 yachts back to their respective fleets.  Moving forward, this facility will serve as the Marina service center allowing us to maintain and service all of our yachts at an unparalleled level in the BVI.
Marina Docks
One of the four main docks that make up our BVI Marina, B-Dock, was largely destroyed and has undergone a complete reconstruction. This footprint of B-Dock has been expanded and the new engineering includes concealed maintenance lockers, upgraded shore-power capabilities and walkways free of clutter with underfoot concealment of the electrical infrastructure.  The recent re-opening of B-Dock plays a pivotal role in streamlining the yacht turn-around process providing adequate dock space and the ability to execute systematic operational procedures to properly maintain, clean, and provision yachts efficiently for new inbound charters.
Communication Infrastructure
Restoring digital connectivity and telephone service proved to be a very challenging aspect of the BVI base rebuild.  With multiple touchpoints and partners to complete this process, we have rebuilt the entire communications network and restored all phone service as of this Spring.  Moving forward, the next phases of our Communications Plan includes the ongoing enhancement of these systems that will expand and strengthen coverage throughout all Marina facilities.
Pool Restaurant & Bar Redesign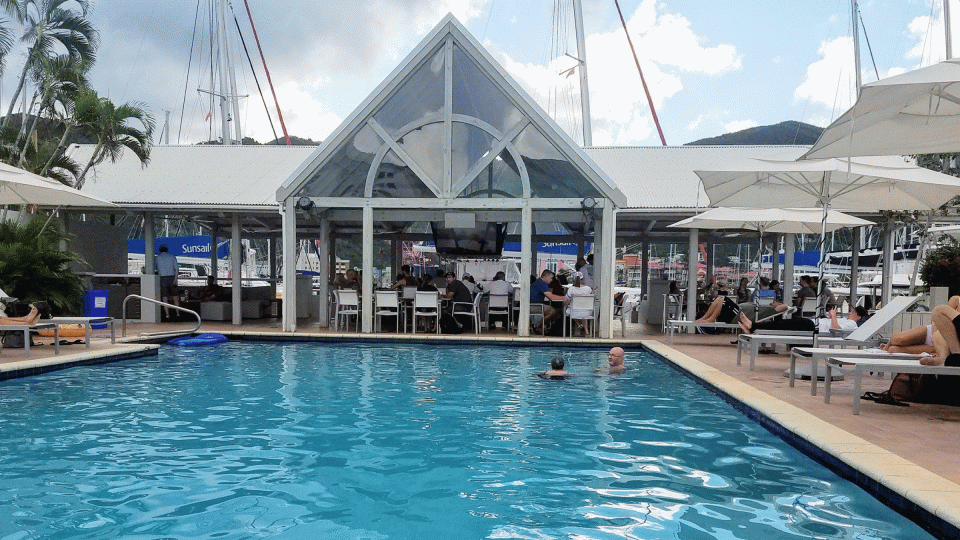 Anchored by the remodeled Marina pool, our large open-air restaurant and adjoining bar in the center of the marina property have undergone a complete renovation and have reopened with a clean, modern feel boasting a full bar, large screen tv's, music, dining areas and living room lounging hangouts. Fitting for this amenity area and aptly renamed The Mariner Yacht Club, this has become a popular gathering area as the perfect place to relax after a long day of traveling or to enjoy one last island drink before catching a flight home.
Opening This Fall
Reopening of the Sunsail Guest Reception

The Sunsail Guest Entrance and Reception is on track to open in October 2019.  This reception area is exclusively for Sunsail guests and staffed with dedicated Sunsail team members for an efficient, well-organized, welcoming service experience for guests.
New and expanded shops and provisioning store on-site

Scheduled for completion in time for the 2020 charter season, the on-site provisioning store will be larger and relocated conveniently within the Marina.  Guests will be able to select an array of provisions to complete stocking their boat or picking up a few forgotten items before departing on charter.  Additional shopping options will include souvenirs, clothing, and sundries. 
Completion of Mariner Inn remodel

The Mariner Inn hotel was heavily damaged by Hurricane Irma and has since undergone a major renovation. All garden and marina-view rooms have reopened with upgraded living comforts and quality interior design.  All remaining rooms are in the final stages of construction and will be available for reservations this Fall.  
Upgraded laundry facilities

Essential for keeping linens fresh, clean and ready for your charter, we have invested in multiple industrial-sized washers and dryers with automated ironing capabilities.  Housed in a new centrally located facility, this new laundry service will save time and energy resulting in a more efficient yacht prep and timely charter start for guests.
Did you find this useful?