Overview
A three-cabin version of the popular Sunsail 484, the Sunsail 483 catamaran keeps all of its sister ship's performance, space and comfort characteristics, and creates even more space to roam.
Ideal for groups of up to eight friends and family, the Sunsail 483's open living space includes a large settee, wide galley and 360-degree views through the main saloon windows. The modern, open galley is fully fitted-out with all the mod cons, and the saloon table converts into two additional berths.
The three double cabins are tall and bright, with plenty of storage space. The port side cabins both include en-suite heads, while the master cabin takes up the whole starboard hull, and boasts even more, space, with a double bed, even more storage, a sofa, and roomy heads.
Additional information
Convertible Saloon: Yes, this yacht has a convertible saloon which is included as a double berth in the maximum capacity.
Forepeaks: This yacht has two forepeaks. The port forepeak is accessible through the forward port cabin and a hatch from the top of the hull. It is large enough for one adult and can be closed off from the forward port cabin side to provide separation. The starboard forepeak is only accessible from a hatch on top of the hull and comes equipped with a head, sink and fold-down bed. Both forepeaks come with a fan, but are not air conditioned. Each forepeak is included as a single berth in the maximum capacity of this yacht.
Skipper/ Cook: A hired Skipper will use an interior cabin unless all cabins are being used as sleeping quarters by charter guests, where he will instead use both forepeaks. A hired Cook will need to use an interior cabin.
Sunsail 483 - 3 cabin Specification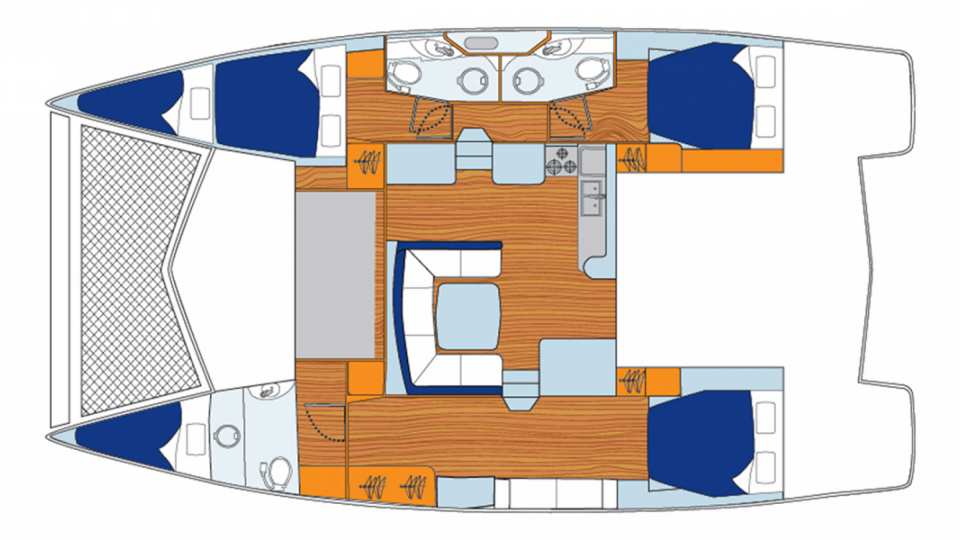 | Number of Berths | Max Number of Berths | Number of Heads | Number of Cabins | Number of Showers | Length |
| --- | --- | --- | --- | --- | --- |
| 6 | 8 | 3 | 3 | 4 | 48 ft |
Age of Your Yacht
When you charter a Premier Plus Yacht you can be sure of a boat with fewer than 12 months service behind it. These brand new yachts offer the optimum in comfort and performance, with the highest standard in technology, equipment and amenities.
With a maximum of three years service under their belts, our Premier Yachts offer a high standard of comfort and performance alongside the latest technology and equipment.
Our Classic Yachts are usually no more than eight years old, meticulously maintained and well equipped to provide you with great value and an excellent sailing experience.
Exclusively crafted by Robertson and Caine
Robertson and Caine began building catamarans in South Africa in 1991. With over 30 years of boat building experience under their belt, Robertson and Caine have launched over 1,000 yachts and are one of the top catamaran builders in the world. Innovative designs include catamarans ranging from 39 to 58 feet capable of sailing the world's most exotic sailing grounds, as well as the award-winning Leopard Catamaran range.