Charlie Enright and Mark Towill
We are pleased to present Charlie Enright and Mark Towill as Sunsail's Ambassadors.  Through 55 South, they are committed to being the most sustainable team in the Volvo Ocean Race by bringing sustainability into every level of the campaign from logistics and operations to outreach and communications.  They have set a benchmark for how to improve and inspire sporting events and teams to follow their example during their race around the world for the '17-'18 Volvo Ocean Race as Skipper and Team Director of Vestas 11th Hour Racing. Their vision and passion inspires sailors around the world and it is a pleasure to partner with them and share their passion.
Meet The Team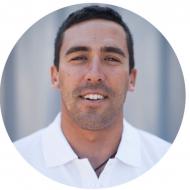 Kaneohe, Hawaii, United States
As a Hawaiian native, the ocean was Mark's playground where he naturally gained a tremendous amount of experience across multiple facets of professional sailing.  After graduating from Brown University with a dual degree in Business and Environmental Studies,  he and his longtime friend Charlie Enright co-founded 55 South with the goal of one day sailing around the world. Mark was integral in the sponsorship acquisition process leading up to, and managing many of the business and team aspects throughout the race.
On board, Mark is a co-skipper with Charlie leading the team through both achievements and challenges. Building upon the experience of his first Volvo Ocean Race as Team Alvimedica in 2014-15 and his passion for environmental conservation, they sought sustainable partners who could help leverage their platform to spread a larger message of ocean health. Competing as Vestas 11th Hour Racing in the 2017-18 edition – a team with the goal of being the most sustainable team in the race through operations, logistics, and outreach education, Mark hopes to continue to build upon the successes of running a sustainable campaign to inspire future sports teams to also lead sustainable practices.
Previous Volvo Ocean Races:
2017-18 Vestas 11th Hour Racing
2014-15 Team Alvimedica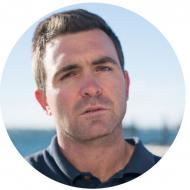 Rhode Island, United States
Charlie is a Bristol, Rhode Island native with two Volvo Ocean Races under his belt and numerous other offshore and inshore racing accolades to his name. From a young age, Charlie knew he would have a passion for sailing as soon as his grandfather – a boatbuilder – introduced him to the sport. While attending Brown University concentrating on Business Economics, he was given the opportunity to participate in entirely youth Trans-Pac crew as part of the Disney movie – Morning Light. There he met, Mark Towill where they started their dream of one day joining the Volvo Ocean Race.
After graduating and before dedicating his full-time efforts to a Volvo Ocean Race campaign, Charlie was working as a sailmaker at North Sails Rhode Island where he managed multiple sailing campaigns for 55 South and other private clients. In 2015-2016, Towill and he completed their first around-the-world race with the youngest team in the race as Team Alvimedica. Then three years later, they partnered with Vestas and 11th Hour Racing to pursue another lap around the planet but this time with a bigger message of sustainability and ocean conservation. Now a father of two young children, Charlie continues to pursue his dream of making a career sailing and hopes to inspire future generations
Previous Volvo Ocean Races:
2017-18 Vestas 11th Hour Racing
2014-15 Team Alvimedica