Overview
An intensive, exciting 7-day advanced curriculum takes intermediate coastal cruisers with prior bareboating or liveaboard cruising experience through the art of traditional navigation & piloting while applying modern electronic techniques and practices. Also included is advanced sail training, with emphasis on trim, tuning and heavy weather handling.  Higher expectations are placed on the student in harbor maneuvering, specifically in docking, anchoring, and handling under power.  Finally, this course is a nighttime certification, and all of the above is practiced during night hours, with focus on crew watch-keeping, identifying and using nighttime aids to navigation, and emergency/contingency planning.


What's Included:
• Sunsail Cruising Yacht with full inventory
• All required texts, exams, and certification materials
• All Breakfasts & Lunches, 2 Dinners aboard
• Drinking Water, juice, coffee, tea & milk
• All Port Fees, Permits, Customs & Immigrations fees (if applicable)
• CDW, Fuel & Consumables on board yacht
• Transfers to/from airport to Sunsail Base

What's Not Included:
• Flights
• Incidentals, Personal Souvenirs, Dinners Ashore
• Provisioning of alcohol, soft drinks, etc.
• Personal Sailing & Comfort Equipment (hats, sunglasses, gloves, foul weather jacket, shoes, etc.)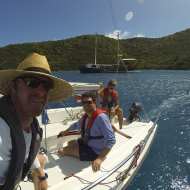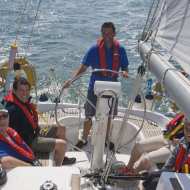 ASA105 Coastal Navigation
http://www.asa.com/asa_standards/standard_coastal_navigation.html
Prerequisites: None
This course develops the navigational theory required to safely navigate a vessel, by day and by night, in coastal and inland waterways using traditional navigation charts and methods. In addition to coastal and large-scale charts of the cruising area, this standard includes identification and usage of government publications such as Chart #1, Federal Requirements for Recreational Vessels, COLREGS, Lists of Lights, Buoys & Fog Signals, Tidal Almanacs & Tables, Coast Pilots & Cruising Guides, Local Rules & Regulations, and Notice to Mariners.
Students will apply traditional navigation methodology to classroom exercises and underway assignments, and in the process will use the appropriate practices to shape our sailing journeys such as calculating tidal streams (TdV), estimated positions (EP), courses to steer (CTS), and log keeping.  Students will employ age-old piloting & navigation procedures such as using man-made & natural 'transits' or building a 'running fix,' while applying modern chart plotter techniques to our mechanical plotting practice to further determine range & bearing, to set 'distance to hazard' alarms and  cross track error margins, or to activate waypoints & routes.
 
ASA106 Advanced Coastal Cruising
http://asa.com/asa_standards/standard_advanced_coastal_cruising.html
Prerequisites: Basic Keelboat Sailing, Basic Coastal Cruising, Bareboat Chartering and Coastal Navigation Certification
As an advanced sail training and maneuvering standard, students will be expected to perform to a very high level of competence in their yacht handling.  Advanced sail trim will be discussed using force diagrams to find centers of effort, lateral resistance, gravity, and buoyancy, or to determine lift and drag thresholds as winds increase.  Emphasis is placed on preparing a yacht for heavy weather sailing and, weather permitting, asymmetrical cruising spinnaker use will be employed.
Students are expected to be very familiar with all aspects of weather forecast interpretation and local weather observation, including ship's instrumentation, to determine the passage of weather systems through the cruising area.
Contingency/emergency planning is given considerable attention as it relates to preparing the yacht for night sailing and coastal passage making. Students will learn to safely conduct emergency procedures such as towing, responding to a grounding or dismasting emergency and emergency de-watering.
Night sailing and distance sailing along the coast require additional equipment and safety preparations for the vessel and its crew, including hoisting/securing gear on deck, inspecting & preparing abandon ship equipment, establishing crew watch-keeping schedules, and anticipation of/preparation for customs & immigration procedures both internationally and specific to local territories and waters.
Course Destinations
The Sunsail ASA sailing school is located in the BVI, 60 miles east of Puerto Rico, and stretching for more than 30 miles around the Sir Francis Drake Channel – one of the finest and most protected sailing areas in the world. Year-round balmy temperatures and line-of-sight sailing make the BVI the perfect choice for cruising and especially suited to learning or improving your skills.