Published: January 25, 2018 Terese Kerrigan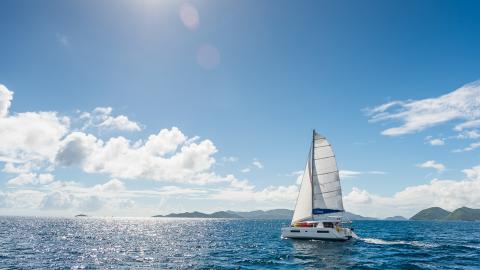 Coming from Hawaii, the ocean has always been my playground, but after sailing around the planet, not only was I amazed at the majesty of the seas from the Mediterranean to the South Pacific, I have also witnessed first hand the impact marine debris has on our oceans. Which is why we have partnered with Vestas, the leading manufacturer of wind turbines, and 11th Hour Racing, a non-profit promoting ocean health awareness, to carry an important message of sustainability on our adventure. As a team, we are looking at how we operate, communicate, and partner so that we can leave a lasting legacy after the race is over.
Don't get me wrong; we still want to win, too! Our crew of 11 men and women can boast 26 Volvo Ocean Races and six wins amongst six nationalities. Our navigator, Simon Fisher (UK), was the navigator onboard the winning team, Abu Dhabi, in 2014-2015. Our veterans Tony Mutter (NZL), Damian Foxhall (IRL), and Phil Harmer (AUS) bring experience that we did not have last time. However, our under-30 crew,  Nick Dana (USA), Tom Johnson (AUS) still have both Volvo and America's Cup experience as well. The depth of our team is a huge asset. 
We also have three women on the crew that we are excited to have with us. New this year, the Volvo Ocean Race incentivized all the teams to increase their numbers to nine by allowing two women to sail onboard each leg.  In offshore racing, there is always the compromise between weight and performance as a lighter boat tends to go faster in certain conditions. However, early on in our campaign, it became quickly evident that this would be a considerable advantage because more people are more eyes, hands, and brains. So we are excited to have Stacey Jackson (AUS), who sailed around the world with SCA, and Volvo rookies Hannah Diamond (UK) and Jena Mai Hansen (DEN) who have multiple World Championships and an Olympic Bronze Medal between them. 
The fact that we sail 65-foot boat around the planet in just nine months is always astounding to me, it really is a small world, and I look forward to another lap around it with a great crew around me.
Did you find this useful?