Published: May 14, 2019 Jody Krebs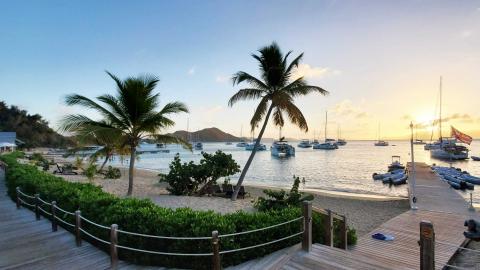 In the Caribbean, just east of Puerto Rico and St. Thomas, lies a beautiful collection of islands known as the British Virgin Islands (BVI). One of the world's top travel destinations for sailing enthusiasts, the islands of the BVI are surrounded by spectacular crystal-clear water and moderate tropical temperatures that are maintained by steady trade winds year-round. 
Not to be upstaged by the impeccable white sandy beaches beckoning you to sit back, soak up the rays and chill out, or by the ideal sailing conditions from island to island, the culinary landscape of the BVI naturally reflects Caribbean influences that will dazzle your appetite with all you're looking to enjoy. 
While my full list of "don't miss" BVI restaurants is quite lengthy, I have selected these five to share after a visit this past April.
Cooper Island Beach Club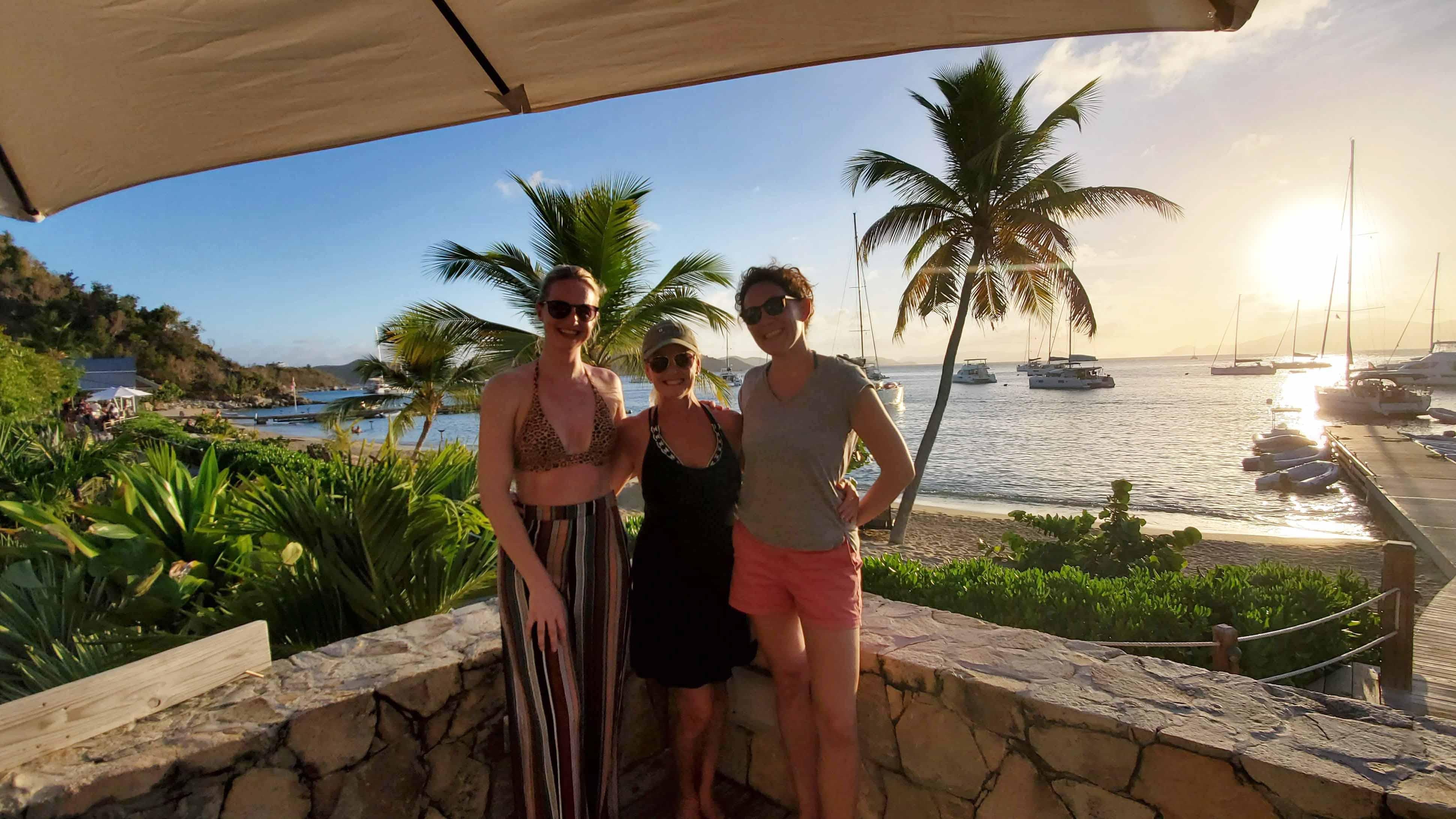 The peacefulness of the picturesque sandy white beach dotted with shady palm trees and boarded by a lushly landscaped boardwalk connecting the Cooper Island Beach Club Restaurant and Bar with the infamous Rum Bar make this stop a breathtaking sunset destination.
Happy hour, lunch and dinner menus are infused with delicious specialty options that can include Homemade Lobster Ravioli and Seafood Curry to Aberdeen Angus Steak selections and Coconut Marinated Tuna Ceviche.  
The Cooper Island Rum Bar has a collection of over 280 rums, earning it its title of the largest selection in the Virgin Islands. Try a Rum Old Fashion, a specialty cocktail like the Rum Pomegranate Lemonade, or if you just can't decide, opt for a rum sampler board or one of their homemade rum infused chocolates.
Pirate's Bight Norman Island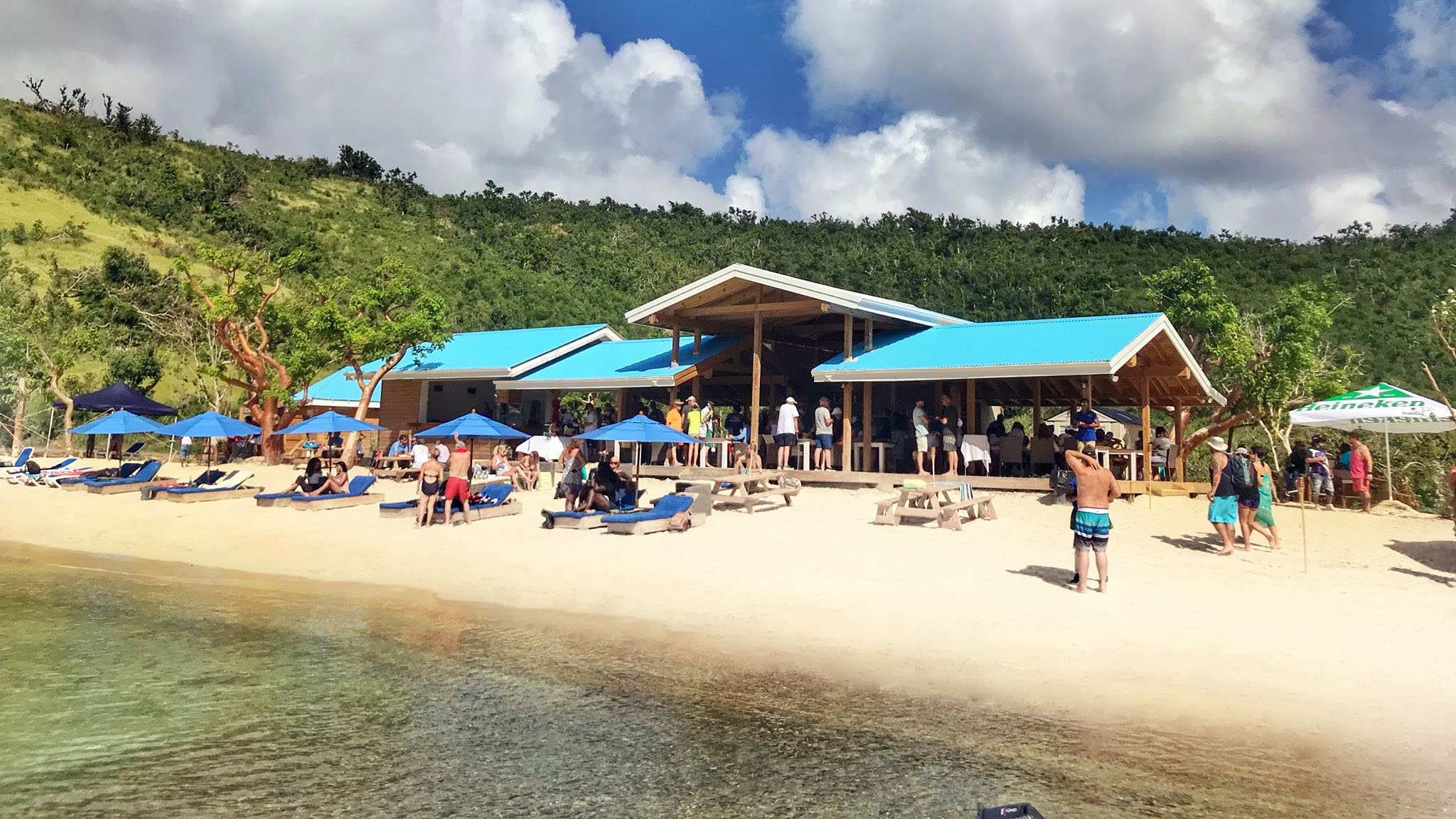 A beachfront restaurant on beautiful Norman Island, long-rumored to be the inspiration for Robert Louis Stevenson's "Treasure Island", Pirate's Bight is ideal for a chill day in paradise where you'll appreciate discovering beachside dining favorites along with some of the best Bushwackers in the islands. 
Lunch and dinner menus include crowd-pleasers like Fish Tacos, West Indian Style Chicken Wings, Grilled Mahi Mahi and a variety of their incredible Signature Salads.  From the bar, you'll find an extensive list of tropical treasures and frozen drinks to enjoy from your beachfront lounge chair, ideally situated under shady palm trees just steps from the crystal-blue waters. 
Potter's by the Sea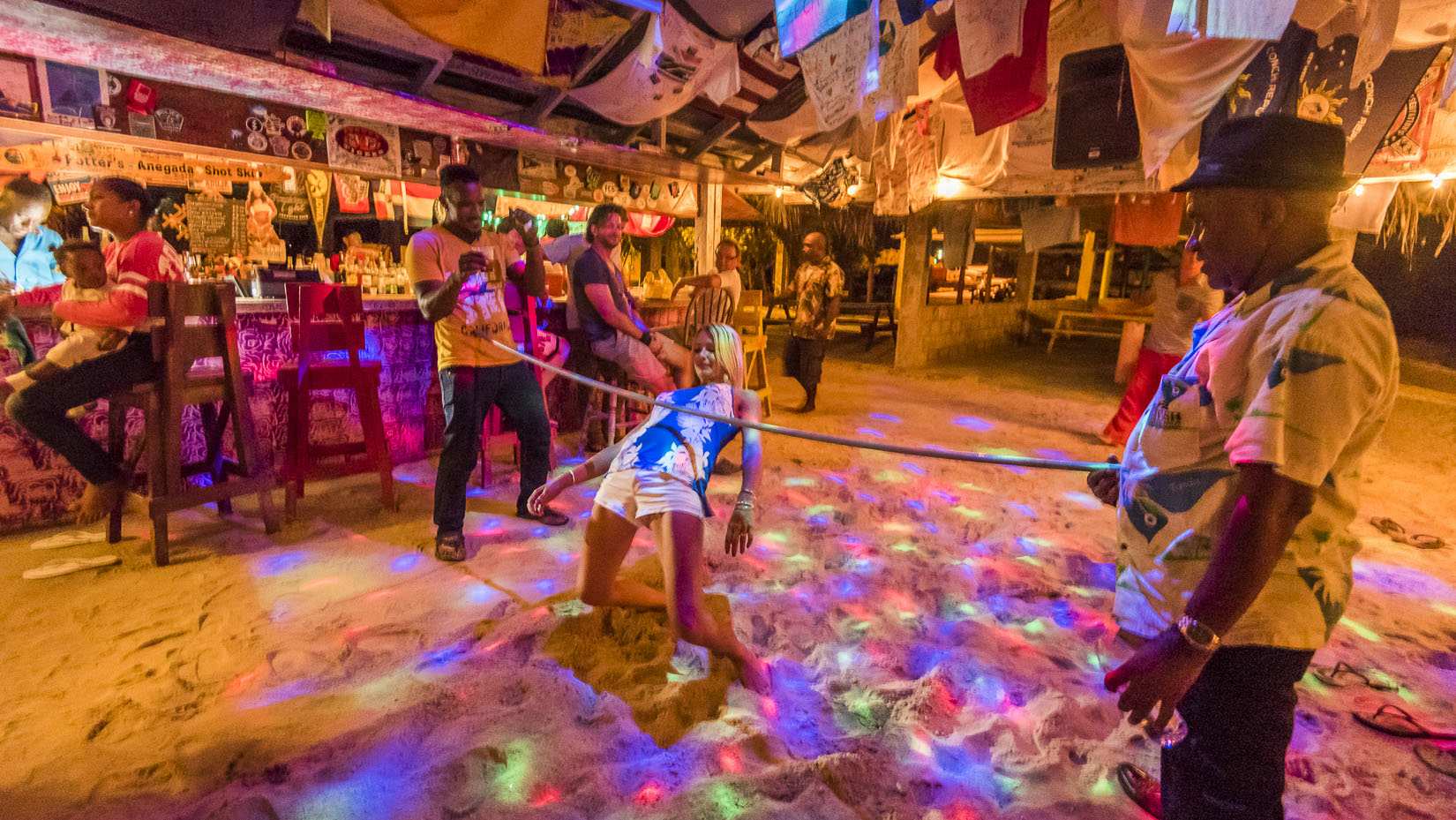 For a unique dining experience that is sure to be one of your most memorable, plan an Anegada evening with the sand beneath your feet as you dine on the beach under the starlit sky. Where the island vibes are strong with the colorful backdrop of the bar and sandy dance floor, you can watch your Anegada Lobster being pulled fresh from the sea and cooked on an open BBQ grill.  To give it a deliciously unique flavor, the delicacies are grilled over special wood that has been collected from the interior of the island.
The relaxed yet vibrant island atmosphere continues to make Potter's a favorite destination in the BVI.  After dinner, dance to Caribbean sounds, do the limbo with the crowd or be in your own world along the beach for an unforgettable night away from it all.   
The Restaurant at Leverick Bay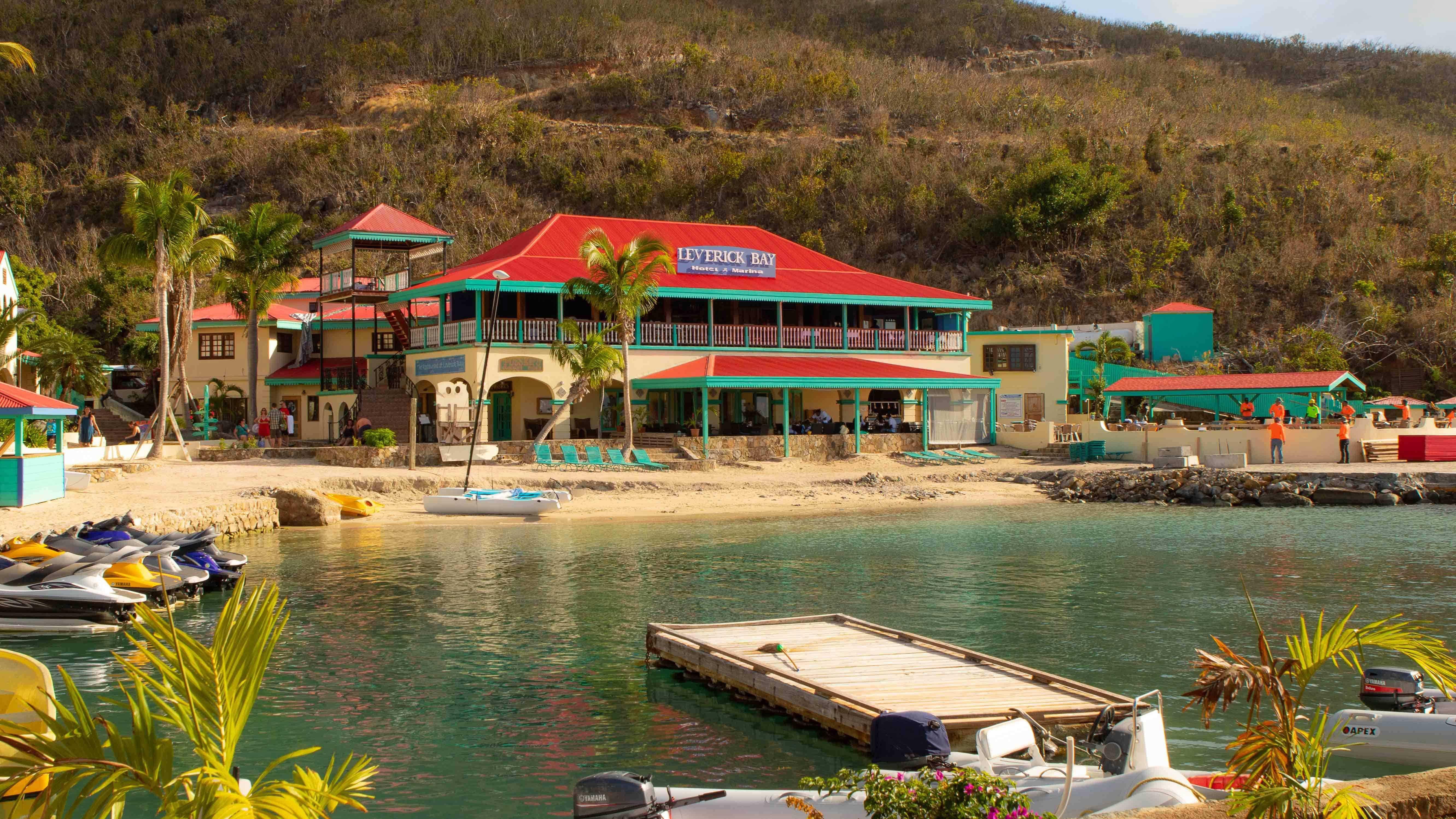 At The Restaurant at Leverick Bay on Virgin Gorda, you will find impeccable classic cuisine rich in family tradition paired with an extensive wine cellar that's home to a collection of diverse wines from all over the world.  Here you'll discover a perfect a fusion of elegance, classic service, and excellent local seafood specialties. 
Favored entree selections vary from Caribbean Bouillabaisse, Coconut Curry Shrimp and Rack of Lamb while dessert selections will tempt your taste buds with classic traditions like Bananas Foster, Key Lime Pie and a variety of gelatos. 
Just above Pusser's, The Restaurant delivers a peaceful setting to enjoy open-air ocean views while dining on the Caribbean style terrace before adjourning beachside for live entertainment and evening cocktails under the stars.
Hendo's Hideout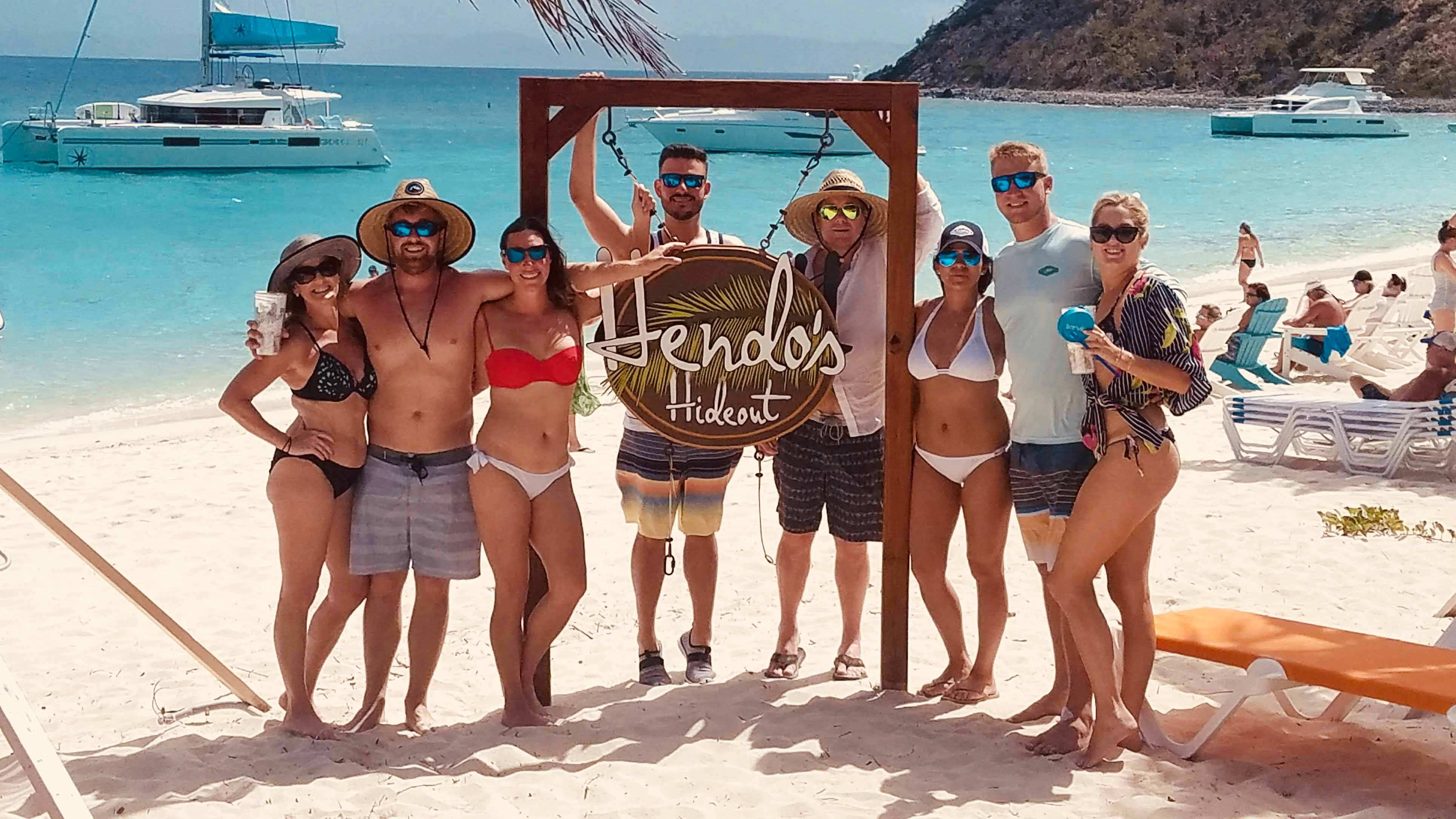 For traditional Caribbean favorites with a new American twist, pay Hendo's Hideout a visit.  You'll find yourself in the middle of the ideal Caribbean beach scene - a gorgeous white, sandy beach boarded by the crystal-clear turquoise waters of beloved White Bay, Jost Van Dyke.  
The Caribbean inspired menus of this beachfront bar include farm to table favorites like the Lobster Wrap, Rum & Coke Pulled Pork, Conch Fritters and a Sushi menu available only by pre-order on Thursday evenings.
A full bar will quench your thirst with local and traditional beers, extensive cocktail options, and specialty drinks like their Delirious Donkey. With an outdoor lounge perfect for an evening by the firepit or a lively game of cornhole, the laid-back flair of Hendo's Hideout is the perfect addition to the White Bay beachfront experience.  
Did you find this useful?